World
Commanders camp opens with new owner Josh Harris in attendance and the buzz of a 'clean slate'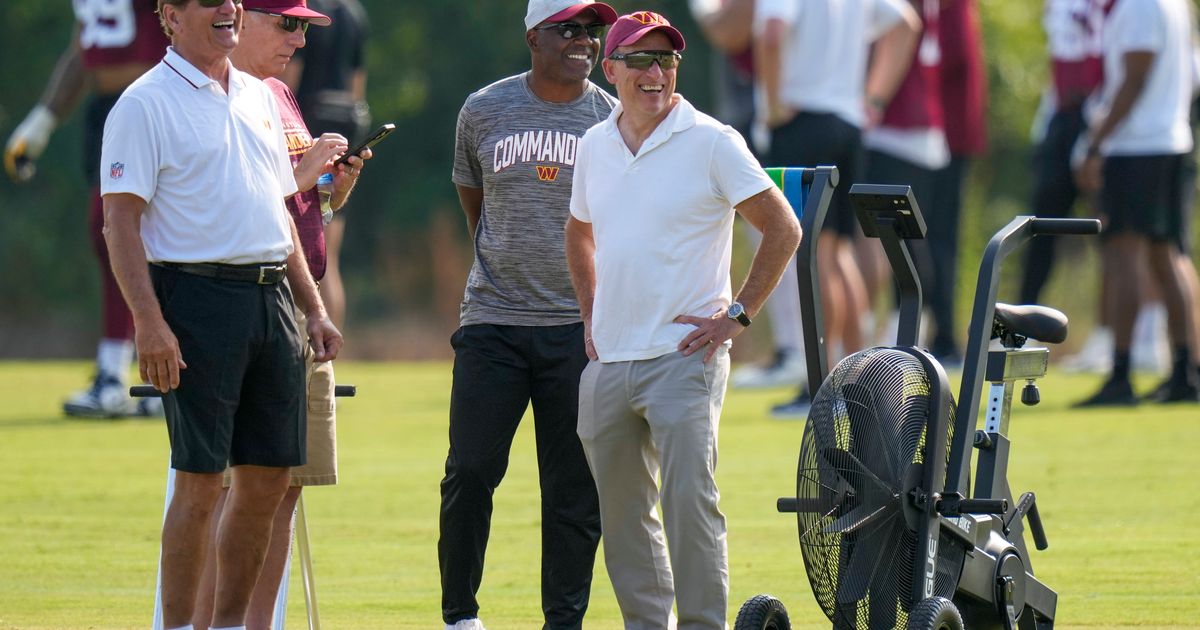 ASHBURN, Va. (AP) — Josh Harris walked off the field after his first practice as owner of the Washington Commanders, gave a thumbs up and said to anyone listening, "We're undefeated!"
That perfectly encapsulated the vibe on the first day of training camp under new management. Even without fans in the newly constructed stands at the team's practice facility, there was a noticeable spring in players' and coaches' steps Wednesday in the aftermath of the long-awaited ownership change, with Harris visibly in attendance at the start of a new era for the franchise.
"It's definitely cool to kind of see just the buzz and a little bit of the glow everybody's getting," said punter Tress Way, the longest tenured player now going into his 10th season with Washington. "It feels different. It's just this kind of clean slate and let's go. Let's go play some ball."
Football that counts is ahead, and the season opener Sept. 10 against Arizona will be another milestone in the process of Harris and his group taking over for loathed longtime owner Dan Snyder. The Commanders ranked last among the NFL's 32 teams in attendance last season and 31st in 2021.
If the energy around the nation's capital once owners approved the $6.05 billion transfer of the team from Snyder to Harris, Magic Johnson and Co. last week is any indication, crowds are coming back in a big way.
"It's going to be exciting to see full stadiums come September," tight end Logan Thomas said. "It's just new beginnings, and I think any time you have a new beginning there's excitement."
Players were excited to hear from Harris, who addressed them briefly in the huddle after practice to introduce himself and was set to meet with them later in the day. He and minority partner Mitchell Rales watching practice and laughing alongside organizational icon Joe Theismann was a significant departure from Snyder's conspicuous absence in recent years amid multiple ongoing scandals.
"Super excited to have him out here — obviously super grateful for him taking over the team," new starting quarterback Sam Howell said. "It's just an awesome opportunity to be on this team right now with so much momentum. Really, it's our job as players to go out there and capitalize on the field."
It's also on Ron Rivera to capitalize in his fourth season on the job, and the coach acknowledged Tuesday he has a lot to prove to new ownership. He got another opportunity to sit down and talk with Harris, who's expected to return to camp Thursday when fans are able to watch up close for the first time this year.
"(That) should be even better with the opening of the stands and us having our fan base here," Rivera said. "I think it's gonna be dynamic and electric. I'm excited about it. I really am. I think our players will feed off of it."
Even with no fans around, Way said there was "just a little different look about everybody" at practice. Safety Darrick Forrest explained it as a bit of extra motivation to be playing for new owners.
Under the old owner, plenty of fans resigned to apathy stayed away from games — and running back Antonio Gibson noticed that detachment. Even while trying to block out any outside distractions, he said he and his teammates "have no choice but to notice" chatter about the sale and now wants that hope to turn into real change.
"Hopefully it's a change," Gibson said, "and the fans and everybody else can realize we got something new coming."
NOTES: Chase Young practiced without a brace on his surgically repaired right knee, which Rivera said was the next step in the edge rusher's progression. Young played just three games last year after tearing the ACL in his right knee in November 2021. … Rivera said the idea behind signing kicker Michael Badgley earlier in the week was to create competition with incumbent Joey Slye. Badgley made 20 of 24 field goal attempts last season, though Rivera pointed out the journeyman was perfect on extra points, four of which Slye missed in 2022.
___
AP NFL: and