World
The Open 2023: first round updates – live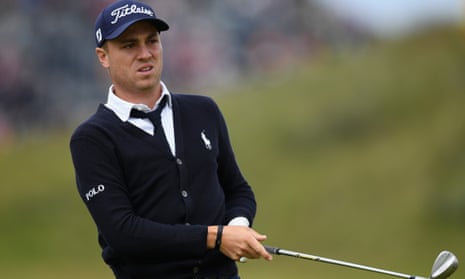 Key events
A brilliant birdie at the last for Brian Harman! He's out of position down the left, so lobs high over the bunkers and into the heart of the green. A different, but equally sensible, solution to the problem solved by Emiliano Grillo not so long ago. And like Grillo before him, Harman gets his reward for his common sense. He guides in a gentle right-to-left slider from 30 feet, and raises his putter to celebrate his birdie. That's a 67, the third of the day, and he joins Antonie Rozner and Adrian Otaegui in second place.
-5: Lamprecht -a- (F), Fleetwood (F), Grillo (F)
-4: Rozner (F), Otaegui (F), Harman (F)
-3: Cink (F), Clark (F), Noren (F), Homa (14)
Jon Rahm and Rory McIlroy both send their drives down the middle of the par-five 15th. Neither make the green with their second shot, Rahm missing harmlessly front right, Rory in a little more bother in a deep bunker guarding the front left. As they mosey on up towards their fate, Max Homa splits the fairway behind them.
Max Homa nearly replicates Rory McIlroy's birdie putt on 14. But his ball shaves the lip. He remains -3.
Rory McIlroy has long needed something to re-energise his round … and here it is! His second into 14 isn't all that, pulled a good 40 feet left of the hole. But he's pin high, and the birdie putt he's left with is pretty straight. He confidently walks it in, the crowd erupts, he moves back to +1, and he's got a couple of par-fives coming up. He could yet salvage something half-decent from what has so far been a distinctly average day's work!
Argentina's Emiliano Grillo shoots 66!
Grillo finds himself out of position to the left of the 18th, so doesn't go for the flag, tucked behind a bunker on the same side, with his approach. He lands his ball safely on the front-right portion of the green, 50 feet from the flag … then sends a tramliner straight into the cup! That matches the best-of-day 66s by the amateur Christo Lamprecht and local lad Tommy Fleetwood … and here's a reminder that Argentina already has produced one Open champion at Hoylake, the legendary Roberto De Vicenzo in 1967. What a putt! What a finish! What a leaderboard!
-5: Lamprecht -a- (F), Fleetwood (F), Grillo (F)
-4: Rozner (F), Otaegui (F)
-3: Cink (F), Clark (F), Noren (F), Harman (17), Homa (13)
A sour look on Rory's puss at the par-three 13th. It's understandable, though. Having hit his tee shot to 30 feet, he looks to have made the long birdie putt, only for it to veer a couple of millimetres to the left at the death and horseshoe out. So unlucky, that deserved better. He has the air of a man convinced he's been singled out for particular abuse from the Golfing Gods, though he's had his fair share of good breaks today as well. His current mark of +2 seems fair enough, given how ragged and uncharacteristically uninspired he's been.
Remember that Jon Rahm drive at 12, the one that pinged off someone in the gallery and flew into the bunker, necessitating that backwards chip out? Well, it turns out our man Michael Butler happened to be right next to the supporter who got hit upside the head. He tells the sorry tale via the medium of Twitter …
For the second time today, Max Homa cards back-to-back birdies. Having done so at 4 and 5, he repeats the trick at 10 and 11. Some way to follow his first dropped stroke of the day at 9. Meanwhile Emiliano Grillo hits one of the shots of the day at the mind-bending Little Eye, and tidies up from six feet to move to within a shot. For the first time in a wee while, there's a little bit of movement at the toppermost of the poppermost (well this is Liverpool after all).
-5: Lamprecht -a- (F), Fleetwood (F)
-4: Rozner (F), Otaegui (F), Grillo (17)
-3: Cink (F), Clark (F), Noren (F), Harman (16), Homa (11)
Neither Rahm nor McIlroy can save their pars on 12. They're +1 and +2 respectively. Meanwhile it's back-to-back bogeys for Tyrrell Hatton, who follows that dropped shot at 10 by putting excitably through the break from short range on 11. Once again the lid threatens to rattle, but he keeps everything in check. He's back to level par.
While we're on the subject of piping-hot salvoes …
According to Rich Beem on Sky, McIlroy has missed the fairway at 12 by 70 yards to the left. He does pretty well to send his second to the apron in front of the green, but doesn't get particularly close with his third. Meanwhile Rahm is forced to take a big gulp of medicine and chip backwards out of the bunker. He then clips his third into the heart of the green and, left with a 40-footer for par, is doing very well to keep his temper in check right now. I'd pay good money for a Just Stop Oil protestor to rock up at exactly this second with a sack of orange confetti, just to see how the ensuing debate would pan out. The climate would change in Rahm's noggin, that's for sure, possibly to a polar-ice-cap-bothering degree.
An awful break for Jon Rahm on 12. His drive hits a punter down the right of the hole and rebounds into a fairway bunker, where it settles snugly against a high face. I suppose he can't complain too much – he did hoick his tee shot towards the gallery, after all – but even so! Meanwhile Rory McIlroy appears to be in the mood to look that gift horse in the mouth: having somehow escaped with par from the previous hole, he now flays another spectacularly wild drive into deep oomska down the left of 12. Trouble ahoy.
Yes he can! In it goes, and could that be a momentum shifter for the 2014 champion? McIlroy remains at +1. Bogey for Tyrrell Hatton back on 10, and he briefly threatens to boil over, before his inner angel calms him down. He keeps his counsel, perhaps surmising that he's still nicely positioned at -1.
McIlroy decelerates mid-chip and only just clears the bunker. Not only does the ball avoid dunking into the trap, it lands softly on the shoulder of the bunker and rolls to six feet. Given he'd have done well to hit a properly struck shot to 15 feet, that's an almighty break. Can he capitalise by rolling in the putt and scrambling an unlikely par?
Rory McIlroy is not on his game at all. Wedging in from the centre of the 11th fairway, he sends his ball wide right of the green, leaving himself short-sided and snookered by a bunker. There's next to no green to play with there, plus his ball's ended up nestled against some taller grass. Good luck getting that close. He looks extremely uncomfortable right now, as he has done from the get-go.
A closing birdie for Adrian Otaegui. The 30-year-old from San Sebastian, a four-time winner on the DP World Tour, posts a fine first round of 67. Tommy Fleetwood and Wyndham Clark apart, there are quite a few surprises on this leaderboard, to say the very least. The singular charm of the Open Championship, right here.
-5: Lamprecht -a- (F), Fleetwood (F)
-4: Rozner (F), Otaegui (F)
-3: Cink (F), Clark (F), Noren (17), Grillo (15), Harman (14)
Collin Morikawa completes a front-nine repair job by rolling in a 25-footer on 9 for birdie. The last time we heard from him, he'd made double at 3. Having bounced back with a birdie on 4, the 2021 champion turns in level par. There's a notable spring in his step again; see also Jon Rahm, who steers in a swinging right-to-left 30-footer on 10 to return to level par as well. But there's no joy for Rory McIlroy, who misses his birdie effort from half the distance and remains +1.
Emiliano Grillo has a strangely binary record at the Open: he either finishes tied for 12th, which he's done twice (in 2016 and 2021) or misses the cut, which he's done four times (in 2017, 2018, 2019 and 2022). The 30-year old Argentinian looks more likely to add to the former tally than then latter right now; he nearly drains a long eagle putt on 15 but makes birdie, his fourth in seven holes. He moves to -3.
Tyrrell Hatton is this close to draining a 40-foot birdie putt across 8. He'll settle for par; having birdied 2 and 5, he's nicely positioned at -2. He's alongside Keegan Bradley, another in-form player who represents a good-value punt for this tournament. The 2011 PGA champion adds birdie at 10 to his previous one at 4.
McIlroy can't make his birdie putt, which is always staying high on the right, and he hits the turn having taken 36 strokes. Jon Rahm also pars and turns for home at +1, while Justin Rose bogeys to fall to +3. This group is failing to deliver on its promise. The conditions are a little tougher than the morning, with a slight increase in the breeze … but not so tough that you'd expect such a storied trio to be this undercooked.
Rory McIlroy yips a three-foot putt at 8, and that's his second clumsy bogey of the day. He's now +1, but responds well by landing his tee shot at 9 pin high, leaving himself a ten-footer to make good. Meanwhile a burst from the back by the veteran Swede Alex Noren, who follows eagle at 15 with birdie at 16 to spring up the standings to -3.
With the exception of that ring-a-ding-ding tie-and-cardigan combo at Birkdale in 2017, two-time major champion Justin Thomas has failed to leave any sort of lasting mark on the Open. That doesn't look like changing any time soon: he's doubled 7 after finding bother in a greenside bunker and failing to splash out close, and after another dropped stroke at 9, he's turning in four-over 39. Having already missed the cut at the Masters and the US Open, this is shaping up to be an utterly forgettable majors season for the 2017 and 2022 PGA Championship winner. Top hat and tails tomorrow? He shot 67 while wearing the necktie and cardie, so anything's worth a try.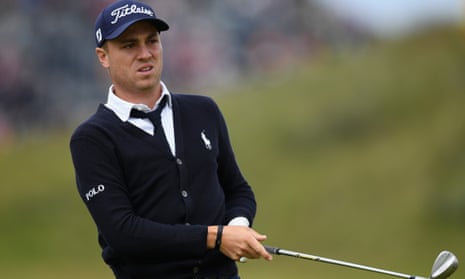 A three-putt bogey for Jon Rahm at 7. Not what the Masters champion was looking for after an underwhelming run of pars. It's met with plenty of groans from the gallery, though not as many as the number that react to Phil Mickelson missing a short birdie effort on 6 after hitting one of the shots of the day at the 204-yard par-three to four feet. Lefty remains at -1 after birdie at 4.
Three birdies in four holes for Adrian Otaegui. The 30-year-old from the Basque Country has only played in one previous Open, missing the cut at Portrush four years ago. But he's going along nicely now at -3 after picking up strokes at 12, 13 and 15. His mentor Jose Maria Olazabal – who himself came closest to Open glory at Muirfield in 1992 – will be very proud.
Our man Michael Butler is at Hoylake. Here's his take on the potential of the 17th hole as the stage for widespread carnage later in the week.
Addendum. I can't in all good conscience post that without putting up the proper stuff.
Rory McIlroy seriously underhits his putt on 6. So much so that it's still his turn afterwards. He limits the damage to mild embarrassment, tidying up from six feet to remain at level par. "To keep the golf video thread going, try Feel the Pain' from the mighty Dinosaur Jr," writes Dominic Maher.
Yeah, not bad. Though everyone knows they nicked the idea from Cannon and Ball.
Back-to-back birdies for Max Homa. Big putts on 4 and 5, and it's about time the late-blooming Californian made a mark in a major. He's done nothing of note in any of them, his best result being a tie for 13th in last year's PGA. But he's won twice already on the PGA Tour this season, at the Fortinet Championship and the Farmers Insurance Open, and he tied for 12th at the Scottish Open last week. Could this week bring his first top-ten finish in a major at least? He's -2 in short order.
Rory follows his disappointing par by finding the dance-floor on the par-three 6th … but he's a long way from the hole. It's just ever-so-slightly flat for the 2014 champion at the minute. That could soon change if he rakes in the uphill 50-footer he's left with. Meanwhile up on 10, bogey for Brian Harman, who drops back to -2.
Yes, so about Rory and those cold Open starts. Having carelessly handed back his slightly fortuitous early bogey on 4, he now sends his approach at 5 way right, and he's in thick rough, short-sided and behind a bunker. He very nearly gets away with it, thanks to an outrageous whip over the trap to ten feet, the best he could do, but the birdie putt shaves the hole. Just a par. We've been here a few times before. Plenty of time to arrest the trend, with not too much damage done, but he isn't exactly exuding confidence at the minute. Might sound silly at such an early stage, but the next hour or so could be pretty pivotal in his latest hunt for major number six. A potentially mood shaping par-three coming up!
Birdie for Antoine Rozner at 18! Up and down from greenside sand, and the 30-year-old from Paris scribbles his name at the bottom of a fine 67. Meanwhile the diminutive lefty Brian Harman hits the turn in 32 strokes after birdies at 5, 6 and 9. You'd have got a good price for some of the names on this leaderboard this time yesterday …
-5: Lamprecht -a- (F), Fleetwood (F)
-4: Rozner (F)
-3: Cink (F), Clark (F), Harman (9)
-2: Jordan (F), Spieth (F), Kim (F), Otaegui (14), Niemann (6)
Birdie for Tyrrell Hatton at 2. He's currently -1 through 3. Meanwhile Alexander Bjork drops a stroke at 12 to slip back to -2. Not a great deal going on right now, which may explain why Sky Sports have cut to a lengthy post-round interview with Stewart 'Drippy Faucet' Cink. Any old excuse …
Collin Morikawa bounces back from that opening bogey with birdie at 2 … only to make a double at 3 after sending his second shot out of bounds. He's +2. Meanwhile up on 4, a dropped shot for Rory McIlroy, who walks off looking particularly pained having taken an iron off the tee for safety. Facing a longer shot in, he found greenside sand, and the die was cast. Was that decision to take an iron off the tee the result of those wayward drives at 1 and 2? Those shots of concern on the driving range? Classic dramatic foreshadowing.
It's already been a good sporting year for Antoine Rozner. The 30-year-old Parisian, who went to college at the University of Missouri, has seen his beloved Kansas City Chiefs win the Super Bowl … and bagged himself a DP World Tour victory at the AfrAsia Bank Mauritius. But could 2023 get even better for him? Rozner has only played in one Open previously, last year's 150th birthday event at St Andrews, where a tie for 59th wasn't a bad result at all. Now, after birdie at 16 and solid par at the tricky 17th, he's coming up 18 sitting at -3. A par will give him an opening round of 68.
A positive end to an otherwise underwhelming opening round by Bryson DeChambeau. The 2020 US Open champion birdied the last, but only for a three-over 74. An extremely sorry conclusion to Rickie Fowler's round, however. Standing on the 18th tee, the Californian, who came joint-second here in 2014, was comfortably placed at -2. He then crashed his drive down the fairway … from where he sent his next two strokes out of bounds down the right. Astonishing, even if the OB line is just a couple of paces into the rough. A triple-bogey eight, and he signs for a 72. Expect the leaders on Sunday afternoon to be aiming well left. He's +1.
Scrub that about Rory and his slow starts! He's sent his tee shot at 2 so far right that he gets a free drop because a grandstand is in the way. He takes advantage of that break to wedge from 116 yards to four feet, then makes his birdie … but only just, the ball looping the loop before dropping. He has the good grace to look extremely relieved. His soda farl landed jam side up a couple of times there. A super-early sign that the Golfing Gods are looking down kindly on him and this could be his week? OK, fair enough, let's not get silly with 70 holes still to navigate. He's -1.
-5: Lamprecht -a- (F), Fleetwood (F)
-3: Cink (F), Clark (F), Bjork (11)