World
Rwanda plan is in legal limbo, but history shows such migration deals are unlikely to disappear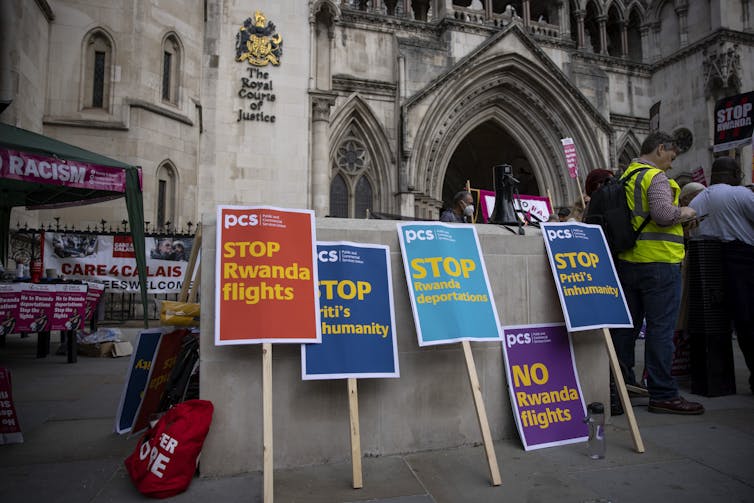 The UK government is taking its controversial Rwanda asylum plan to the supreme court, after the court of appeal ruled that the proposal was illegal.
However, even if the higher court appeal fails, agreements like the UK-Rwanda asylum partnership are unlikely to disappear. This is because migration "deals", as historical analysis shows, are almost never just about migration. Rather, they are more often quid pro quo arrangements linked to other domestic and foreign policy goals.
The UK-Rwanda partnership involves the UK committing to provide Rwanda with £120 million in economic development aid. This is on top of an estimated £170,000 per asylum seeker that the government expects to spend if the agreement is implemented.
In exchange, Rwanda would host these asylum seekers and determine whether their claims are genuine, in which case they would be offered refugee status in Rwanda. The court of appeal found that the Rwandan asylum system would be unable to accurately and fairly assess asylum claims, therefore putting refugees in danger.
In addition to its aim of tackling irregular migration, the arrangement allows the UK to increase its influence in the mineral-rich Great Lakes region of Africa.
---


Read more:
How the UK's plan to send asylum seekers to Rwanda is 21st-century imperialism writ large


---
The partnership provides Rwanda with resources and an opportunity to boost its international profile. It also means Britain exercising restraint in critiquing or putting pressure on Rwanda in areas where it might otherwise be far more vocal, such as human rights and meddling in the affairs of its neighbours.
For example, the UK refused to directly criticise Rwanda's backing of the M23 rebel military group involved in a series of rapes and other crimes in the Democratic Republic of Congo, while the US, France, Germany and Belgium called on Rwanda to halt its support of the group.
The UK-Rwanda partnership is also a sign of how future migration "deals" could shape UK foreign policy. The government's illegal migration bill hinges on the detention and removal of migrants who arrive in the UK irregularly. It lists 57 other countries that could be potential future partners, including Ecuador, Gambia, Moldova, Mongolia and Sierra Leone. Deals with any or all of these states could similarly affect UK foreign policy in arenas far beyond migration and border control.
Deals throughout history
The government claims that its approach is "completely new and innovative". But in recent decades, Denmark, the US, Australia, the European Union and others have all pursued deals that strongly resemble the UK-Rwanda partnership.
Transactional migration schemes commonly involve the exchange of cash and other incentives for hosting, assisting with or accepting the return of people who have been deemed "illegal" or "unwanted". History is full of attempts to transfer "unwanted" populations to far-flung locales in exchange for financial or foreign policy benefits.
In 1902, British colonial secretary Joseph Chamberlain proposed that parts of eastern Africa would be settled by Jewish immigrants. This came to be known as the "Uganda scheme".
This was sold to domestic constituents as a solution to the "alien" (Jewish) migration of "persecuted people" to Britain. But it also served numerous British imperial and economic interests, including justifying public investments in failed colonial infrastructure projects and deterring German expansionism in the region.
Jews were not the only group to be a focus of involuntary resettlement in distant lands. The League of Nations' Nansen International Office for Refugees received numerous proposals for such schemes.
In 1934, it led the search for a "suitable home" in which to resettle Iraqi Assyrians. It considered venues such as British Guiana, Brazil and Timbuktu. The prospect of resettlement in Brazil was due in part to the interests of the London-based Paraña Plantations Company.
The company operated in Brazil and offered to sell the League of Nations tracts of land for the project as a moneymaking scheme that would simultaneously attract usable labour.
Like the migration partnerships of today, these schemes were often justified on grounds of pragmatism, and cast as humanitarian responses designed to stop human suffering. They also involved promises of financial and other assistance in exchange for receiving populations, and were deeply intertwined with states' larger geopolitical objectives.
When deals backfire
Beyond the human rights implications and legal questions, these deals can also cause problems for the states that sign onto them.
States that agree to migration deals can commit to ongoing transfers of resources in exchange for for arrangements that ultimately never come to fruition or fail to achieve their aims. They might also become locked into expensive contracts that continue long after detention facilities are no longer in use.
This has happened with Australia, which is still paying the tiny island nation of Nauru AU$350 million (£184 million) annually, despite the fact that its processing centres now stand empty.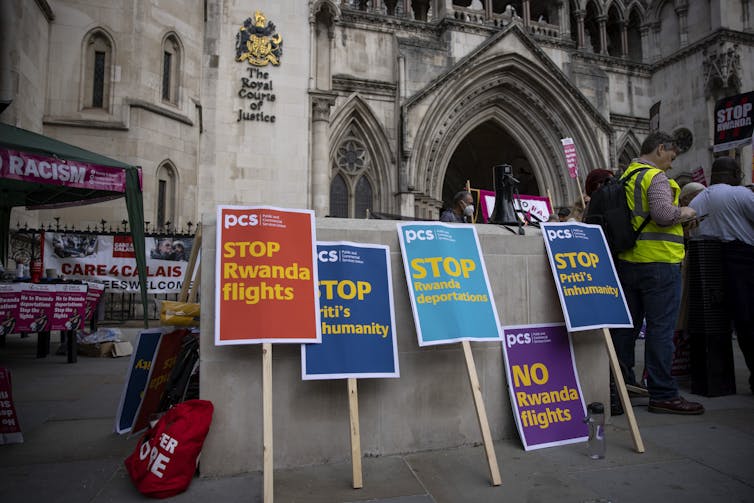 Countries that agree to receive migrants can also exploit their position as de facto refugee and migrant warehouses. They can threaten not to cooperate with the terms of the deal, or expel those housed on their soil to extract more aid and other concessions over time.
This is something now deposed Libyan leader Muammar Gaddafi did on multiple occasions in the early 2000s while hosting migrants and asylum seekers from several Middle Eastern, North African and sub-Saharan countries.
In some cases, authoritarian regimes may use the aid received as part of a migration deal to bolster their power and increase control in their own countries. This can, ironically, lead to more people fleeing the country as refugees amid escalating political repression.
History shows that migration partnerships voluntarily entered can backfire. And yet, the current UK government seems determined to push ahead with these deals (in Rwanda or elsewhere) as a central aspect of its border control policy. Doing so may also lead to unexpected outcomes and consequences in regions far beyond its borders – with lasting implications for foreign policy.