World
Vulnerable House Dem Abigail Spanberger Will Not Run for Reelection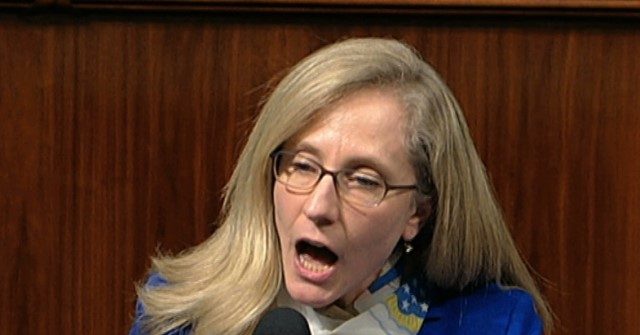 Vulnerable House Democrat Abigail Spanberger (VA) will not seek reelection in 2024, instead opting to launch a gubernatorial bid, according to Politico.
Despite being picked for a leadership position among House Democrats, the Virginia congresswoman told top aides and colleagues she's planning to launch a gubernatorial bid in the upcoming election cycle. 
Although state law allows Spanberger to launch a congressional campaign and a statewide run simultaneously, sources told Politico she does not plan to seek a fourth term in Congress. 
Spanberger hopes to succeed Virginia Gov. Glenn Youngkin (R), who is ineligible to run for office due to state law prohibiting governors form serving consecutive terms.
As Politico reported:
Spanberger and one of her top political aides told four Democrats that she is preparing to launch a bid for the governor's mansion that Republican Gov. Glenn Youngkin will vacate in 2025, according to four people familiar with those conversations. Her team has also begun to discuss plans for a statewide run with her colleagues on Capitol Hill, according to two Democratic lawmakers. All were granted anonymity to speak candidly about plans that are not yet public.

Any announcement from Spanberger would likely not come until after Virginia's highly competitive state legislative elections this November. But her ambitions — and that possible timeline — threaten to add uncertainty about the battle for the House in 2024.

…

Spanberger can run for reelection to her House seat and immediately launch a statewide run. But the congresswoman and an aide told two Virginia Democrats last spring that she does not plan to seek a fourth term in Congress, according to two people familiar with those conversations. Sam Signori, who ran Spanberger's 2022 reelection campaign to Congress, is expected to manage her governor's bid as well.
Spanberger's seat in Virginia's seventh congressional district is considered a must-win for House Democrats in the 2024 election.
Spanberger was one of several vulnerable Democrats targeted by the The National Republican Congressional Committee (NRCC) in the 2024 race. Earlier this year, the NRCC launched a nationwide campaign targeting Spanberger for her vote to support reduced penalties for violent crimes.
NRCC spokesperson Delanie Bomar said House Republicans are "all hands on deck" to win the race in Virginia's seventh congressional district.
"Abigail Spanberger didn't like life in the minority, joining a growing list of extreme Democrats clamoring for the exits. House Republicans are all hands on deck to add this seat to our column and grow our majority," Bomar said.
In response to Politico's report, Spanberger's spokesperson told the outlet, "As every Democrat in Virginia should be, Abigail is squarely focused on the 2023 General Assembly races."
Jordan Dixon-Hamilton is a reporter for Breitbart News. Write to him at jdixonhamilton@breitbart.com or follow him on Twitter.