World
Obamas' Personal Chef Found Dead In Tragic Accident Near Their Martha's Vineyard Home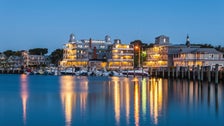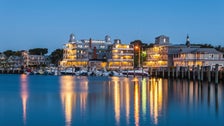 The body of a former sous-chef at the White House, who went missing while paddleboarding in the waters of Edgartown Great Pond in Martha's Vineyard, Massachusetts, has been recovered Monday, according to authorities.
Both AP and the Sun Times report that Campbell was 45, though MSP says the body recovered was that of a 43-year-old male.
Campbell went to work for the Obamas when they left the White House. In a statement, Barack and Michelle Obama called Campbell a "beloved" part of their family.
"Tafari was a beloved part of our family. When we first met him, he was a talented sous chef at the White House — creative and passionate about food, and its ability to bring people together. In the years that followed, we got to know him as a warm, fun, extraordinarily kind person who made all of our lives a little brighter."
"That's why, when we were getting ready to leave the White House, we asked Tafari to stay with us, and he generously agreed. He's been part of our lives ever since, and our hearts are broken that he's gone," said the pair, who purchased their 29-acre Edgartown property in December 2019.
MSP retrieved the male victim's body around 10 a.m. just one day after he went missing. His body was found approximately 100 feet away from shore, by "deploying side-scan sonars" from a boat. Authorities said the "president and Mrs. Obama were not present at the residence at the time of the accident."
The search for Campbell initially began around 7:46 p.m. on Sunday when Martha's Vineyard police and fire agencies responded to a call about a male paddleboarder who was unable to stay above water.
Authorities say another paddleboarder was also with him on the pond at the time and witnessed him go under the water.
Multiple agencies were involved in the search, including the Coast Guard, Dukes County Sheriff's Department, local police, Edgartown fire personnel and other island fire departments.
The State Police Detective Unit for the Cape and Islands District and Edgartown police are investigating the incident.