World
Norway v Philippines: Women's World Cup 2023 – live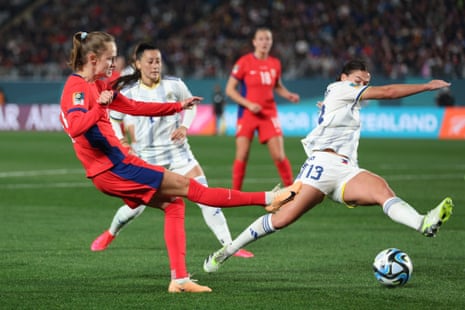 Key events
45 + 2 min: Philippines have a great break! Barker passes to Flanigan who tries to find Bolden but Bjelde does enough to disrupt – Norway can't become complacent as the Philippines will punish them. There are three minutes added.
45 min: Really well marshalled by Cowart who was under pressure in the box and Long intercepts a ball to Reiten but Barker then loses out to Haavi.
43 min: Bolden chases a pass to Mikalsen from Harviken but the keeper clears. Norway launch an attack and Graham Hansen spots Reiten in the box but it's blocked.
41 min: Reiten and Eggesvik are in a right battle and this time Reiten wins out, getting a cross in but it's cleared. Bolden is down here and in some pain, she took some studs to her knee. She doesn't need treatment though and she's up.
39 min: Maanum has a ball in and Long takes it away from Norwegian players but it's almost an own goal! McDaniel collects but my heart was in my mouth for a second there. The Philippines win a throw in and it comes to Beard on the edge of the area and she takes a shot – Mikalsen collects but it's their first shot on target.
37 min: The Philippines are being completely picked apart here, Haavi has another shot blocked. The crowd come to life again though as Long passes to Bolden but it's not long until Norway win it back.
35 min: Haavi crosses in and it almost reaches Haug but the Philippines do enough to clear. Graham Hansen pings it up again and it eventually comes to Haavi but McDaniel saves.
33 min: Graham Hansen's goal means no matter the result in the other game, if the score in this one stays as it is Norway are through. But they want more/
GOAL! Norway 3-0 Philippines (Graham Hansen, 31′)
This is why she should start games! What a strike from the star, huge.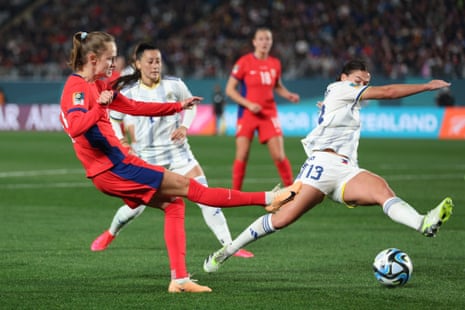 31 min: That was almost in from the corner! McDaniel follows the ball all the way and punches clear.
30 min: T Hansen manages to keep the ball in play and lay it into the area but Bolden clears. Norway are on the search for their third, they will want as many goals on the board as possible. Here they come again with Graham Hansen, she does so well to cross to her and Haug has a back heel but Long blocks sensationally! Norway corner.
28 min: Haavi intercepts a pass from Long and it almost creates a chance but her touch is out of play. Every time the Philippines are on the ball the crowd come to life.
26 min: The game has settled slightly after a frantic few minutes there! Get your breath back, we go again
24 min: My word! Haug is almost in again, she gets a shot away but McDaniel collects.
24 min: Norway have a corner here, Graham Hansen is over it but the Philippines clear it well. Norway come again, they are not taking the foot off the gas but Mjelde's cross has too much on it.
22 min: Haug would not usually be starting, she is on in place of the injured Hegerberg but what an impact she is having! Boe Risa has to track back now as Quezada looks to break away but the Norweigan does just enough to repel her.
20 min: The Philippines started so well, troubling the Norway defence but two brilliant moments from Haug has stunned them slightly. They definitely have enough in the team to come back but they just need some sustained time on the ball.
18 min: Well, well, well! As things stand, still a goalless draw in the other match, Norway would be through on goal difference and co-hosts New Zealand would be out.
GOAL! Norway 2-0 Philippines (Haug, 17′)
That header! What a hit, it's worked well and they put themselves in a great position here.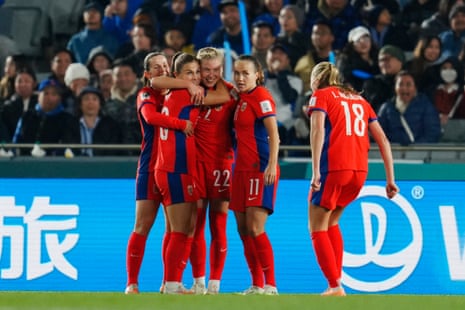 16 min: Maanum and Bjelde work well between each other but then pass it into a space with no one on the run. Possession exchanges hands quickly in the next few moments. Peter has got in touch and said: "What a moment for Sara Eggesvik! Born in Norway and capped at the U19 and U23 levels before switching to the Philippines, her mother's birth country. Can you imagine the scenes if she scores the decisive goal tonight?" It would be huge! I'd like to see her post-match interview if that does happen!
14 min: Beard throws but drops it, the referee allows her to retake despite Maanum's protests of a foul throw. It comes into the box but Mjelde blocks.
12 min: Reiten pops it in, Haug heads it but it's wide. Norway wanted another corner but a goal kick is on.
11 min: Barker does well to track back and defend Haavi who was in a great position, Norway corner.
9 min: The free kick is taken short and worked well into the box, it comes to T Hansen and it's just wide! If things stay as it is, with Switzerland and New Zealand drawing, Norway would still go out – it would go down to head to head. But Reiten tries to change their fortunes with a great cross and Beard sees it out for a corner. Reiten takes but McDaniel collects easily.
8 min: Norway had set themselves a target of a 3-0 win today and they are on their way, that was also Norway's first goal of this tournament. The team now win a free kick.
GOAL! Norway 1-0 Philippines (Haug, 9′)
What a goal! It's pipped in and Haug finds the corner with an amazing strike at a tricky angle.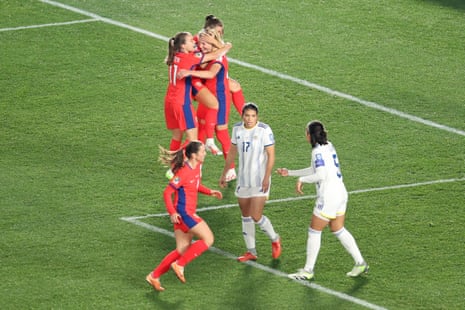 6 min: Graham Hansen is in the box again, she is full of beans today, and she wins a corner. It's taken short, eventually comes in but it's well defended. Norway work it around the area again but McDaniel booms it upfield and what a clearance it is!
4 min: Graham Hansen dribbles and is lofted towards goal but McDaniel collects, her save is met with a huge cheer – it's clear who the crowd want to win!
3 min: Beard takes it and it's a good delivery, it pinballs around but Harviken eventually clears. A great start from the Philippines.
2 min: Norway win an early foul on Reiten but Guillou reads the play extremely well and is away! Graham Hansen fouls her to stop the chance and they have a free kick!
Kick-off! Norway 0-0 Philippines
Here we go then! Group A will be decided over the next 90 minutes.
How do you see this shaking out? If Norway go out at the group stage it will be a huge failure, they should be topping this group! The Philippines definitely have the majority of support in the stadium.
The players are out in Auckland and the anthems will shortly follow. Will Norway bow out at the group stage for the second time in 12 months? Kick-off in just under 10 minutes.
Here is more information on Hegerberg not being available:
I had a dream I slept through my alarm and woke up to the second half of this game, the speed at which I checked the time when my alarm actually did go off was impressive! Any similar dreams let me know! Or if you have any predictions for how Group A will shake out, you can contact me on Twitter or email.
A huge and historic win for Morocco as they have defeated South Korea! Catch up with all the reaction:
And on the Philippines' star player: "Sarina Bolden arrives in Australia and New Zealand having scored a joint record 22 goals in 37 appearances at the time of writing, and having converted the shootout penalty that secured World Cup qualification. She sets an example for the rest of the players with her as well as style of play, inspiring others to give their all too. "I'm a player who has energy," she told fifa.com. "I try my best to bring that energy and keep the tempo high. And I think I'm a leader on the field. All of that makes me the player that I am." Having picked up experience from playing in the US – where she was born – as well as Sweden, Taiwan and Japan, Bolden has been with Western Sydney Wanderers since 2022." Full piece:
A fun fact about Norway from our team guide: "Pretty much the entire Norway squad has become gripped by a particular pastime during camps in the recent 12 months, namely crosswords. The press officer Halvor Lea started printing and handing out crosswords to anyone who wanted one and the activity became more and more popular. "We help each other out if anyone gets stuck so it has become a really social thing for us," the goalkeeper Guro Pettersen said." Full piece:
A great feature to dig into:
As this one kicks off at the same time as the other match in Group A we are running two different blogs! You can catch all the action from Switzerland New Zealand here:
And for the Philippines and they also make one change with Harrison out with Barker coming in.
Starting XI: McDaniel, Cowart, Sawicki, Long, Bolden, Eggesvik, Flanigan, Beard, Barker, Quezada, Guillou
The team news is here! Let's start with Norway as they make one change with Eikeland making way for Graham Hansen. Hegerberg is unavailable for the match.
Starting XI: Mikalsen, T Hansen, Mjelde, Boe Rise, Graham Hansen, Reiten, Bjelde, Harviken, Maanum, Haavi, Haug.
Good morning, afternoon or evening depending on where you are reading from. You tune into this Group A clash between Norway and the Philippines which will help determine who goes through with this being the nations final group match.
Switzerland v New Zealand will kick-off at the same time to ensure no team has an advantage over the other. As things stand Switzerland top the group with four points, New Zealand are second with three, Philippines are third with three and Norway are bottom with one. Any of the four teams could qualify and here's how it would play out with all the permutations:
Switzerland win – through

Switzerland draw – through

Switzerland lose – they would need the other game to draw or for Norway to win by less than three goals.

NZ win – through

NZ draw – they would need the other game to draw or for Norway to win by a goal (they would then be tied on points and goal difference so it would come down to amount of goals scored, then head-to-head)

NZ lose – out

Norway win – Would need Switzerland to win, if New Zealand won Norway would have to win by more than two goals or the other game to draw and win by more than a goal

Norway draw – out

Norway lose -out

Philippines win – through

Philippines draw – need Switzerland to win

Philippines lose – out
A lot to keep an eye on! Let's get to the team news.