World
Nolte: Disney's 'Haunted Mansion' Flops, 'Sound of Freedom' Tops 'Mission: Impossible'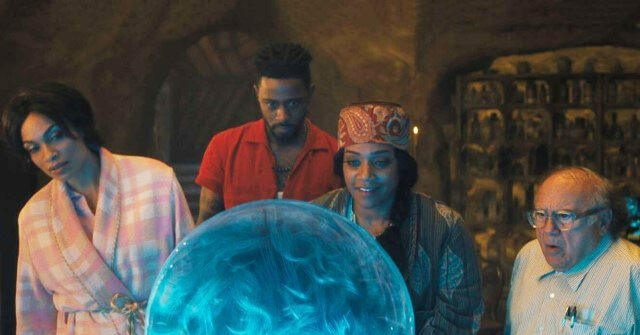 With Haunted Mansion's dismal $24 million opening, the Disney Grooming Syndicate has been hit with another box office catastrophe. Overseas, it grossed just $9 million.
Haunted Mansion's production budget sits at around $160 million. Let's add a modest $65 million for promotion and call it a $225 million investment.
Disney could lose more than a hundred million on this dog, something the grooming syndicate cannot afford. Disney is already dealing with a long line of flops and under-performers, including Elemental, The Little Mermaid (2023), Strange World, Ant-Man 3, Indiana Jones and the Dial of Kathleen Kennedy Needs To Be Fired, and Lightyear.
Before the release of Indiana Jones 5, Little Mermaid, and Haunted Mansion, there were reports that the Disney Grooming Syndicate had already suffered close to a billion dollars in box office losses.
Is there hope for Disney on the horizon? We'll see…
Unless the strike forces them to push the schedule, Disney has two major releases set for November. A $200 million animated feature called Wish and The Marvels, a female-driven Marvel film no one asked for, starring that universally-appealing box office sensation Brie Larson.
Elsewhere at the box office, Barbie is lining up to be the hit of the year. In ten days, it has crossed the $350 million domestic mark and earned $750 million worldwide. No one can downplay what is indisputably a cultural sensation. If you can get them into the theaters, there are enough NPR wine moms and gays to deliver a box-office hit.
Considering it's a three-hour historical drama, Christopher Nolan's Oppenheimer is enjoying an equally amazing success. In ten days, it sits at $174 million domestic and $400 million worldwide.
The box office story of the year continues to be Sound of Freedom. With a $14.5 million budget, this unstoppable machine is just a few dollars from crossing $150 million, which it easily will today.
What's most astounding is that it is grossing more than Mission: Impossible – Dead Reckoning Part One, which everyone assumed (after last year's Top Gun: Maverick) would be the hit of the summer. Unfortunately for Tom Cruise and Paramount, Dead Reckoning is shaping up to be the biggest disappointment of the summer after Indiana Jones 5. Considering there's an equally expensive ($300 million) second part that's only half done, Dead Reckoning's performance must be especially worrying.
Indiana Jones 5 is a total wipeout. With only fumes left in the box office tank, it sits at $167 million domestic and $388 worldwide. Between production and promotion, that doesn't cover its budget.
Dead Reckoning has a little more left in its box office tank, but sits at just $139 million domestic and $449 million worldwide. No one expected this. Fallout (2018) was a smash, earning $792 million worldwide. Rogue Nation (2015) cleared $683 million worldwide. Ghost Protocol (2011) earned $695 million. It was up, up, up with this franchise, until it wasn't.
Between Barbie, Super Mario Bros., Sound of Freedom, and Oppenheimer, moviegoers seem eager for something new and different. 
These big-budget franchise movies might be grossing more, but not enough to make them profitable.
Follow John Nolte on Twitter @NolteNC. Follow his Facebook Page here.