World
Mandy Moore reveals that her son Gus, 2, has Gianotti-Crosti Syndrome: 'Sometimes you feel so helpless'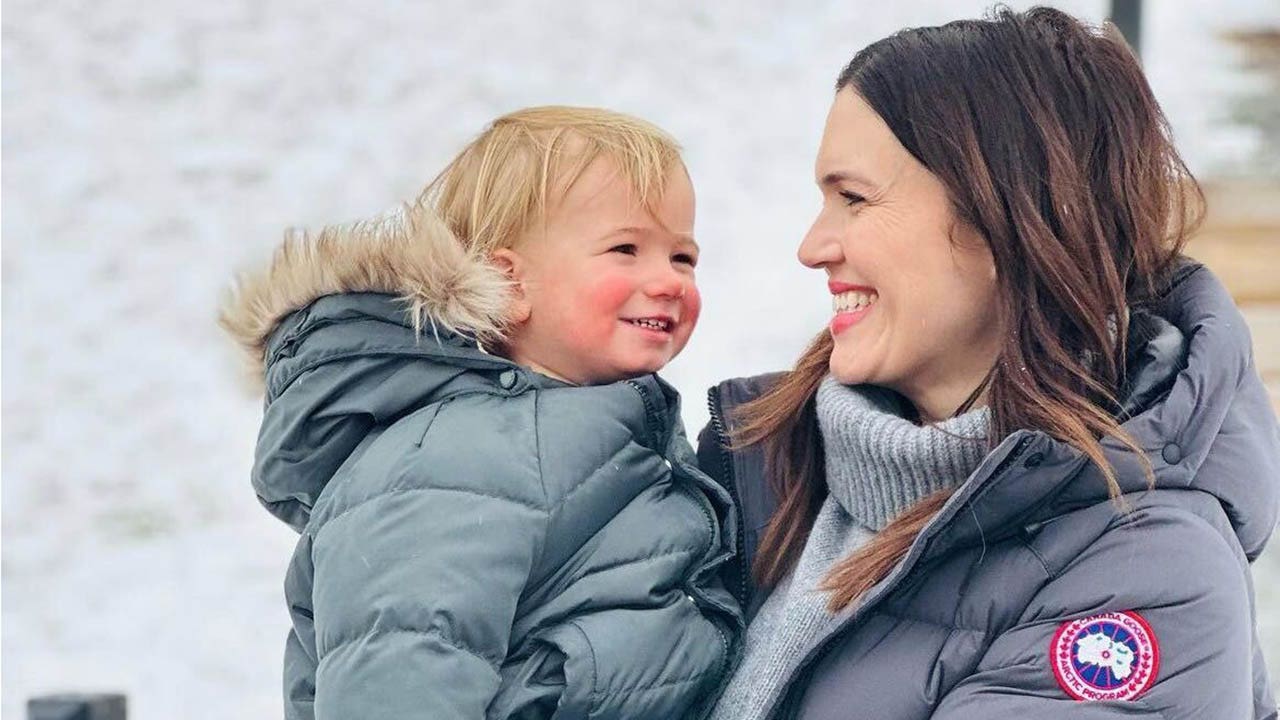 Mandy Moore revealed that her two-year-old son Gus has Gianotti-Crosti Syndrome, a rare skin condition that causes a blistering and itchy rash in children according to WebMD.
In posts on her Instagram Story, the 39-year-old actress detailed how Gus, whom she shares with her husband Taylor Goldsmith, woke up with a mysterious rash on Saturday, which was initially difficult to diagnose despite visits to several doctors.
"This sweet boy woke up with a crazy rash on Saturday am," the "This Is Us" star wrote on a photo of Gus licking a lollipop in what appeared to be a doctor's office.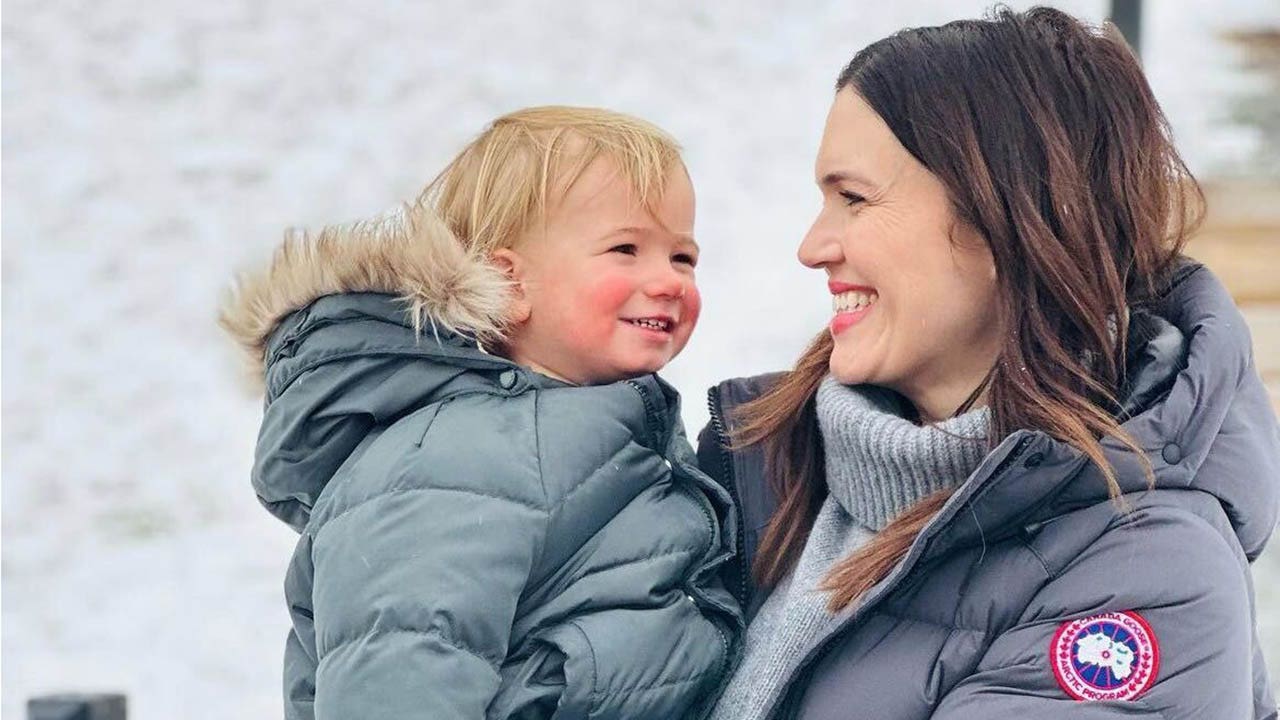 She continued, "We thought maybe an eczema flare? Poison oak? Allergy. We tried to deduce what it could be and did anything to help him find relief from the itch."
MANDY MOORE SAYS SHE WILL HAVE AN UNMEDICATED BIRTH DUE TO RARE BLOOD CONDITION
"Went to urgent care. Pediatrician. Dermatologist. Pediatric dermatologist. All the while, he smiles and carries on like the rockstar that he is."
In another post, the "Candy" singer explained that doctors were finally able to identify Gus' skin condition as Gianotti-Crosti syndrome.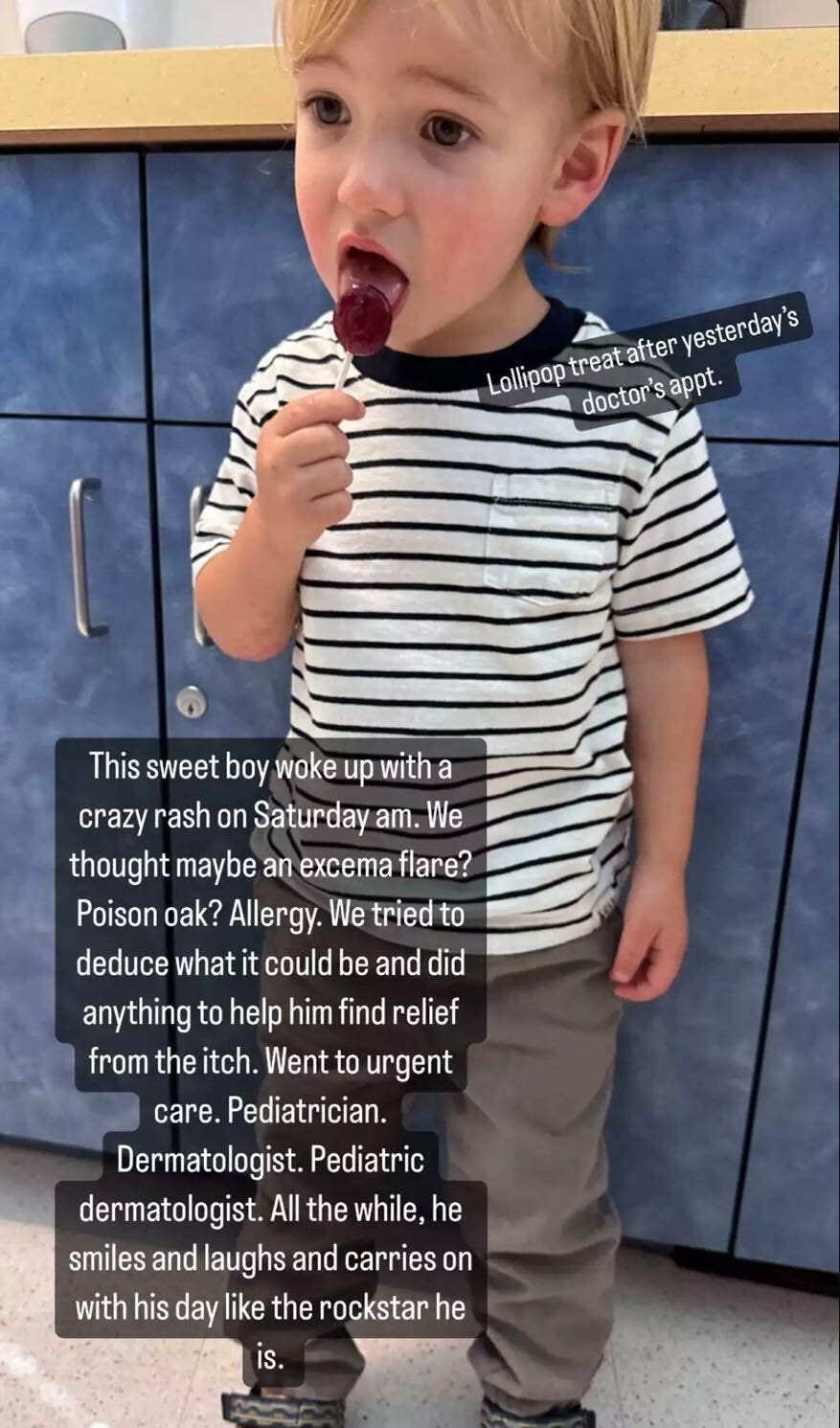 "Turns out it's a viral childhood rash that just spontaneously appears called Gianotti-Crosti syndrome," Moore wrote on an image of Gus in which the child's legs were seen covered with red patches of skin. 
"It's all over his legs and feet (ouch) and the backs of his arms but nowhere else," she added. "There's nothing to do but a steroid cream and Benadryl at night. And it could last 6-8 weeks. Ooooof. Anyone ever experience this?"
Moore concluded by sharing another photo of Gus and opened up about the challenges of parenting.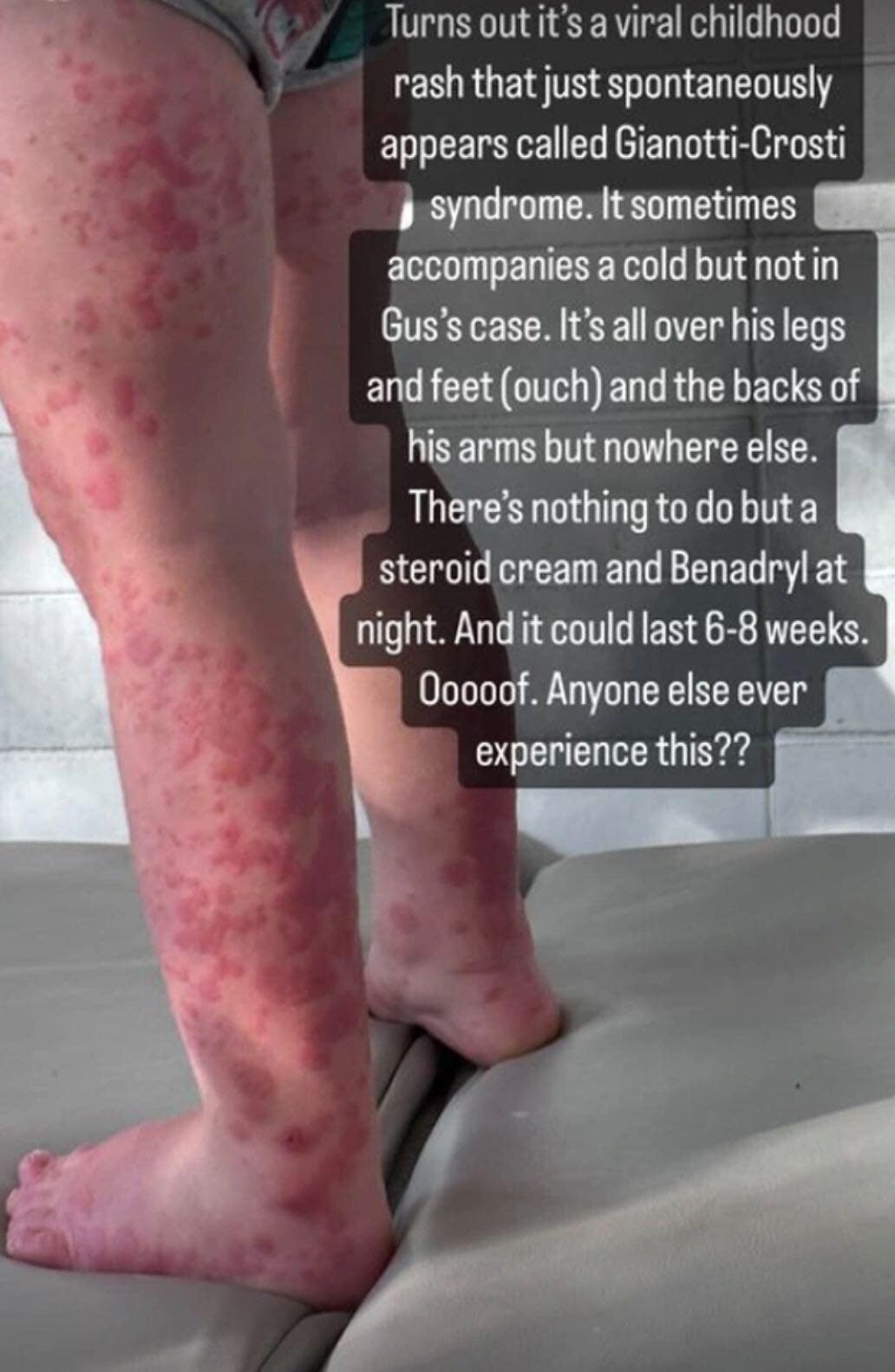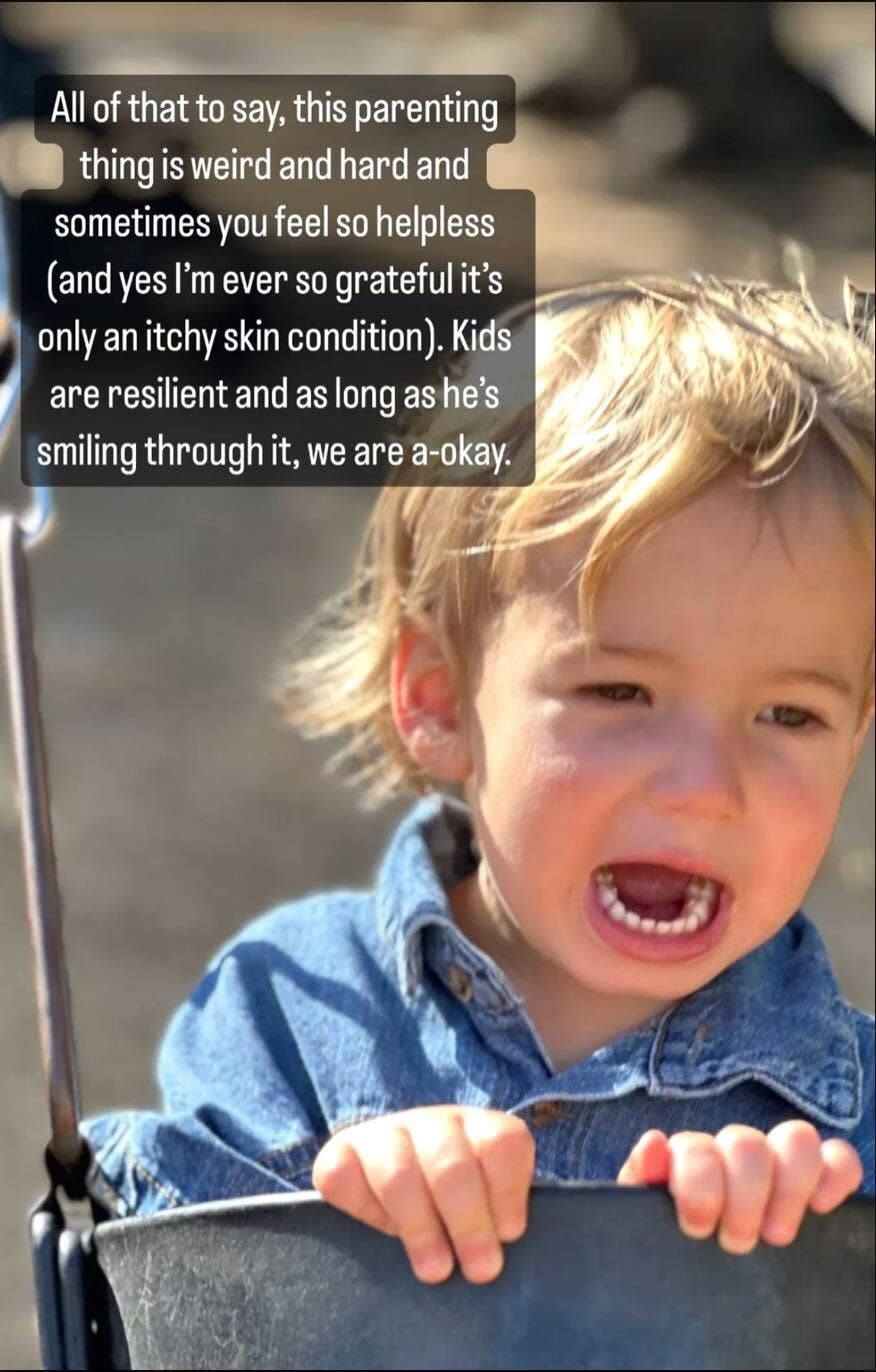 "All of that to say, this parenting thing is weird and hard and sometimes you feel so helpless (and yes I'm ever so grateful it's only an itchy skin condition)," the New Hampshire native admitted. "Kids are resilient and as long as he's smiling through it, we are a-okay."
Per the National Organization for Rare Diseases, Gianotti-Crosti syndrome is a "rare skin disease affecting children between the ages of nine months and nine years.
CLICK HERE TO SIGN UP FOR OUR ENTERTAINMENT NEWSLETTER
 Major symptoms may include blisters on the skin of the legs, buttocks and arms." NORD also noted that the disorder is typically preceded by an underlying viral infection.
In addition to Gus, Moore and Goldsmith, who tied the knot in 2018, are also parents to nine-month-old Oscar "Ozzie" Bennett.
Last month, the "A Walk to Remember" actress reflected on the "chaos" that she and the Dawes frontman experience daily as the parents of two toddlers.
CLICK HERE TO GET THE FOX NEWS APP
"These dudes rule my heart," Moore captioned a snap of Gus and Ozzie. "Each night, Taylor and I fall into bed after we've put them down; after we've straightened up from the chaos of dinner/bath and set up for the next morning, and we chat about the day…. And just how utterly nonstop and gratifying it is."
She continued, "You never know what the day will bring and you roll with it to the best of your ability, right?"
"All of that to say, I wouldn't have it any other way. I mean, I do look forward to feeling moderately well rested sometime in the next decade? But [shrug emoji]," Moore concluded.