World
Lawsuit: Whitmer Admin Used Coded Message to Conceal Email from Public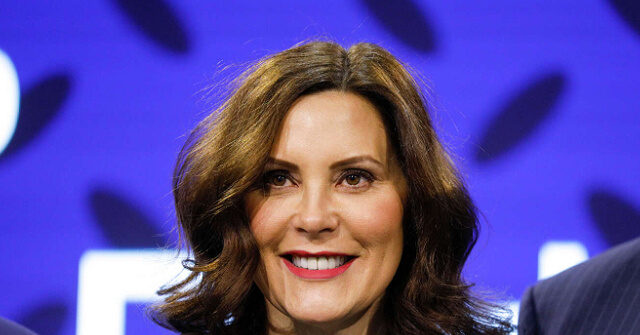 A consultant for Gov. Gretchen Whitmer's (D-MI) administration sent a message to a Whitmer adviser in a different language as part of a "calculated" effort to "conceal" the message from public records, a lawsuit alleges.
The communication discussed the 2021 lead water crisis in Benton Harbor, Michigan, a town whose residents ultimately sued Whitmer over her administration's "deliberate indifference" to addressing the crisis. For years, the town's water system exceeded federal standards of lead contamination.
Consultant Andy Leavitt sent a message to a Whitmer adviser in Greek, a move that "appears to be calculated to conceal the statements," a class action lawsuit against Whitmer's government alleges.
As the Washington Free Beacon reported: 
One month before the residents filed their suit, Leavitt—a partner at a Michigan strategic consulting firm who was advising Whitmer's energy department—emailed Whitmer senior adviser Kara Cook to express his concern over the administration's "not acceptable" warnings to Benton Harbor residents. Leavitt's top-line assessment of the warnings, however, was written using the Greek alphabet. Changing Leavitt's font to standard English reveals the following message: "Hot off the presses. As I warned there are some major red flags. It seems like we are back at square one having not learned from Flint."

While the lawsuit eventually led to the discovery of Leavitt's message, the email likely would have remained hidden from the public if Whitmer's administration had not faced legal action. That's because Michigan's public records department is unable to electronically search for records that use Greek letters, government correspondence obtained by the Washington Free Beacon shows. As a result, even if a concerned citizen or political group caught wind of the tactic and requested energy department communications that use certain Greek letters, Michigan's government would have been unable to provide them without searching for the letters manually, an extremely expensive process that can take years.
Interestingly, Whitmer pledged to reverse a policy that the governor's office is not subject to the Freedom of Information Act (FOIA) during her 2018 campaign. However, she has yet to reverse that policy after four years in office. 
A veteran public records researcher told the Washington Free Beacon he had never run into government officials using foreign languages to send messages. 
"I haven't seen it before, but it doesn't surprise me," the researcher said. "Agencies play games to fight requests all the time. If they're doing it here, where else are they doing it?"
Jordan Dixon-Hamilton is a reporter for Breitbart News. Write to him at jdixonhamilton@breitbart.com or follow him on Twitter.