World
What's a catch? Bizarre ruling dispute saves Smith at lunch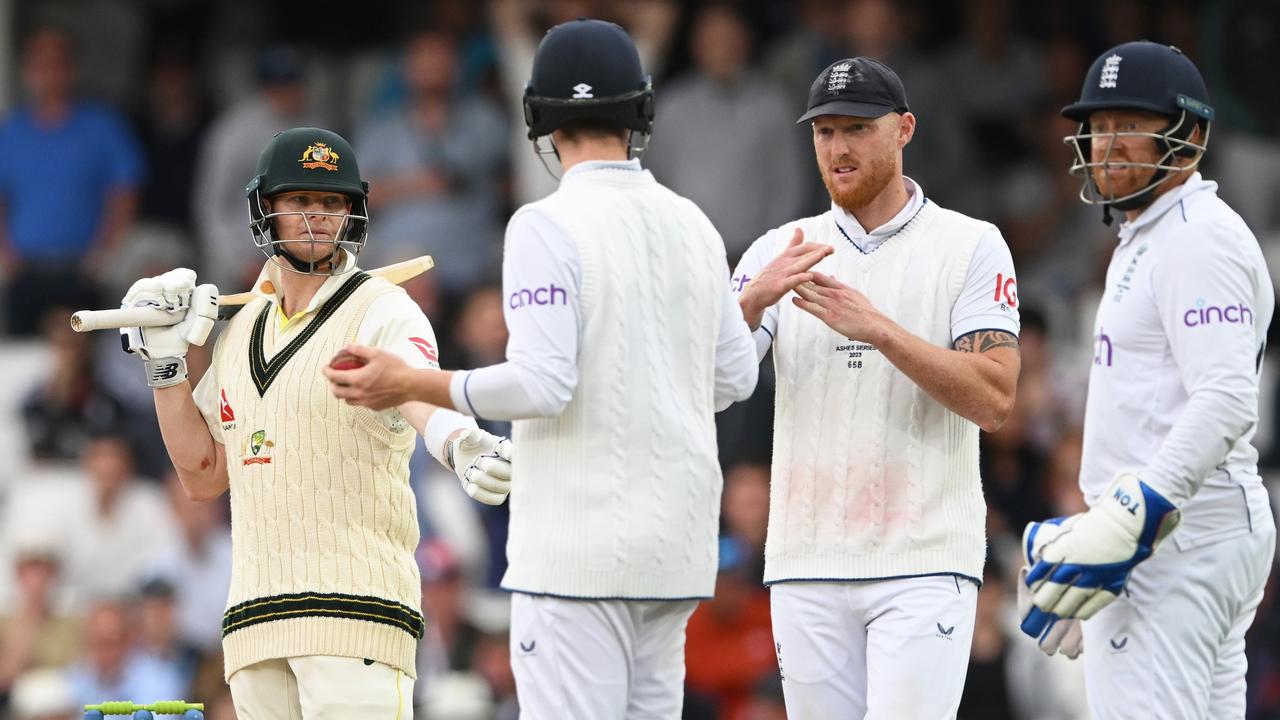 Welcome to our coverage of the final day of an all-time great Test series.
Australia will begin day five at the oval 249 runs away from victory, with England requiring 10 wickets to steal a series draw.
A win or a draw will give Australia their first series win in England in 22 years.
SCROLL DOWN FOR ALL THE KEY MOMENTS FROM DAY FIVE
12:05AM: PONTING FUMES AT BALL CHANGE
Ricky Ponting is known for his temper, and the former Aussie skipper let it take over at the lunch break, fuming at the change of ball by the umpires.
The ball change made it near impossible for batsmen in the morning session, as the shinier ball hooped around the ground.
Ponting was not pleased about it, speaking on Sky Sports.
"Last night there were only 11 balls bowled after the change of conditions," he said.
"The biggest concern I have is the big discrepancy in the condition of the ball chosen to replace it. There is no way in the world you can even look at those two balls there and say in any way they are comparable. If you are going to change balls, you want to make sure you get it right, as close as you possibly can to the one you are changing it from.
"There weren't too many older-condition balls in there. But there were some that were picked up, the umpires looked at them, and threw them back.
"I just cannot fathom how two international umpires that have done that a lot of times before, can actually get it so wrong. That is a huge moment in this game, potentially a huge moment in the Test match. And something I think has to be investigated.
"Whether there was the right conditioned balls in the box, or the umpires have just blase picked one out of there they thought would be okay.
"Perfect storm as well, the conditions were better for bowling this morning. What I saw last night, with that ball there on the left of screen. I will put my hand up and say I have no doubt at all that ball would not have done anywhere near as much as that one did this morning. "Double the amount of movement this morning from yesterday afternoon. Seam movement and swing. I think it's a huge blunder that needs to be investigated."
That plus combined with Stokes' failed catch before lunch, there's always something to talk about with this series.
11:40PM: LORD'S REPLAYS THIS TIME, WEATHER WATCH ROLLS ON
Last night Edgbaston got us through to the close of play, tonight hopefully it is Lord's that sees us through to the resumption of play.
Unfortunately, if you are still watching the replay on Nine, the spirit of cricket has already been killed.
Thankfully, for the sake of the children they did not need to see that again.
It is still dark and dreary in London, hopefully we are not denied the thrilling finish that we all deserve after mucking up our sleep patterns for six weeks.
11:20PM: RAIN ADDS TO THE TENSION
After that end to the morning session, we were all raring for this battle to begin once again.
Annnnnnndd, there's the rain.
Literally as the players were taking their position for the second session, the rain became to come down, so the covers are back on at The Oval.
The delay adds another spiral to this classic clash and series, putting a potential dampener (haha?) on an Australian chase.
This rain does not seem to be going anywhere quickly so stand by as we sit enthralled by the rain radar once again.
10:35PM: LUNCH: DRAMA ENGULFS STEVE SMITH ONCE AGAIN
Ben Stokes dropped Steve Smith while prematurely celebrating as the Ashes series with everything delivered another extraordinary moment.
That drama followed a baffling ball change that appeared to have turned the course of the fifth Test as England ran riot on the final morning at The Oval.
Chasing 384 to secure a 3-1 series win, Australia's top order collapsed after another brief rain delay to lose 3-29 inside eight overs and hand the ascendancy back to the hosts on the last day of an ever-seesawing series.
The Aussies were 3-238. at lunch, with the series result still in the balance heading into the last two sessions.
Playing his final Ashes innings, David Warner was unable to jag a breakthrough Test century on English soil, getting a thin edge on 60 to a cracking delivery from Chris Woakes.
Usman Khawaja became Woakes' second victim of the morning when trapped in front of a straightening ball for 72.
Marnus Labuschagne then tickled a swinging beauty from Mark Wood to be superbly caught by Zak Crawley at second slip for 13.
By this point Australia had fallen from 0-140 to 3-169, leaving Smith and Travis Head with a steep task of steadying their side in the quest to break a 22-year away Ashes series victory drought.
While not looking overly comfortable, Smith and Head kept things ticking over, bringing up a half-century stand before lunch at the same venue where less than two months ago they put on 285 for the fourth wicket in the World Test Championship final against India.
Then on 39, Smith gloved a ball from Moeen Ali on the stroke of lunch to be caught one-handed by England captain Stokes at leg slip, only for Stokes to spill the ball before controlling the catch in scenes reminiscent of Herschelle Gibbs' drop of Steve Waugh in the 1999 World Cup.
While the overhead conditions were favourable for England, it was the particular Dukes ball that appeared to the weapon of mass destruction.
The seemingly fateful switch had occurred just before rain stopped play on day four. A Wood bouncer had struck Khawaja's helmet, leading the umpires to change an apparently damaged ball in the 37th over.
The rules dictate in such circumstances that a ball of comparable wear shall be used, however close-up footage made it appear as though the replacement ball was in considerably better condition than the first one.
To that point Warner and Khawaja had batted comfortably. After that the Australian batters began routinely playing and missing.
Several former Australian players queried the change.
The legendary Ricky Ponting said on Sky's broadcast that the Aussies appeared to have been hard done by.
"The batsmen don't get it a say in it. The umpire go through that box and find the most similar to the one that is changing," Ponting said.
"If that is the most similar then they don't have enough balls in that box. That is a huge contrast to the conditions to the two Dukes balls.
"The reason I think it is such a big deal, especially in England (is) because you don't know what you will get condition-wise in the morning."
Former Test batter Callum Ferguson went even harder.
"I think it is actually disgraceful they have allowed a ball this new into the game at the stage they did. It made it very difficult," Ferguson told Channel Nine.
Further rain was forecast for later in the day, potentially helping the tourists, who only needed a draw to clinch a series win.
10:15PM: 50 PARTNERSHIP PUTS AUSSIES BACK IN THE HUNT
These two really have put the teams on their backs to finish this session.
We have seen Australia in the past crumble under the pressure of a hooping ball in English conditions.
But Smith and Head have met this challenge, can I say Head on?
The sting has slightly come out of this "new" ball, meaning we have a bit more of a contest on our hands.
England have turned to Moeen Ali, and the spinner has been able to get something out of this deck.
The ball has kept low on multiple occasions, even sneaking through Steve Smith's legs and barely missing the stumps.
Can these two see their side through to lunch?
9:55PM: TRAVBALL HITS BACK
Smith and Travis Head have stopped the bleeding … for now.
Head has played some beautiful strokes, looking particularly comfortable to Jimmy Anderson, who has not looked as potent as his fellow pacemen.
These two have been able to score quickly, even under the huge pressure they are facing currently.
If these two can get to lunch, this game is still well and truly up for grabs.
*Checks weather app*
The rain is on the way in London, last night I lamented it, tonight it may be cause for celebration.
What a way for this series to end either way.
9:35PM: ENGLAND KEEP THE PRESSURE COMING
Right, at least for one blog update the ball is what it is and we have to deal with it.
We'll see how long that lasts but right now Australia don't have many answers as this thing looks like a loop you put on the end of your signature.
Steve Smith has made a strong start to his innings, however these are dangerous times with the cloud coverage giving this ball the capacity to move.
Again, I say, it must be the cloud coverage!
Travis Head has looked susceptible but we know he will play his shots, so the action will likely continue.
9:15PM: THE BALL OF DEATH STRIKES ONCE MORE
This ball change has flipped this game on its head now, and you have to wonder how a ball that is meant to be this old is moving so much.
This is not hyperbole the thing is flying around.
Marnus Labuschagne is the one to fall victim this time, edging to Zak Crawley at second slip, and Australia now has it all to do at The Oval.
Former Aussie batsman Callum Ferguson voiced his anger on the Nine broadcast.
"I think it is disgraceful they have allowed a ball this new into the game at this stage they did," he said.
Unfortunately, yet unsurprisingly there's no sympathy from renowned Twitter troll Piers Morgan.
9:00PM: MARNUS SIGNALS HIS INTENT, WHAT IS WITH THIS BALL?
No great effort to do so, but Marnus Labuschagne has already surpasses his first innings score.
The Aussie batsman has operated with much more freedom this morning, even as the ball HOOPS around.
Again, this ball is supposed to "replicate" a 47-over old ball after being swapped out last night.
But can we put anything past the might of Joel Wilson? His reach on a game knows no bounds it seems.
Kumar Dharmasena is the other umpire, we shall see if the shine on this ball continues to cause havoc out in the middle.
Meanwhile, Chris Woakes is in his bag out in the middle, getting this ball to talk like it's going out of fashion.
8:40PM: WOAKES STRIKES AGAIN, AUSSIES IN TROUBLE
Australia's openers are both gone, this has been a disastrous start to the game.
Chris Woakes does the job again, this time trapping Usman Khawaja right in front, this change of ball last night looks to be doing plenty.
The English are well on top to start today, now it will be up to Labuschagne and Smith to ease the pressure.
Chris Woakes is as they say, on one here.
The seamer draws an edge from Steve Smith that runs down to third-man for four.
You suspect we might know where this game is headed within the next hour.
8:30PM: WARNER GOES, WHAT A START FOR THE HOSTS
Well, David Warner's final Ashes innings in England ends in disappointment, gone for 60 early on day five.
A beauty that went across him from Chris Woakes, the ball nipped away, caught the outside edge and landed in Bairstow's lap.
What a start for England this morning.
Out comes Marnus Labuschagne who immediately plays and misses at one outside off-stump.
The hosts have got their tail up right now, it's been a complete contrast to last night.
For Warner, it's not the fairytale he was hoping for but hopefully they are valuable runs towards this total.
8:20PM: BROAD, ENGLAND COME OUT SWINGING
We knew it would happen, but Stuart Broad has come out with his tail right up to start the final day of his Test career.
A changed ball looks to have bought some good fortune for the hosts, with the ball getting a bit more movement through the air.
Ricky Ponting voiced his displeasure with the change.
"The batsmen don't get it a say in it. The umpire go through that box and find the most similar to the one that is changing," he said.
"If that is the most similar then they don't have enough balls in that box. That is a huge contrast to the conditions to the two Dukes balls.
"The reason I think it is such a big deal, especially in England, Nasser, because you don't know what you will get condition-wise in the morning."
Chris Woakes hits Usman Khawaja on the pads, but Joel Wilson says not out, with replay showing it pitched outside leg stump.
This is a lot different feel to last night, with England on the charge.
7:55PM: CAREY'S BLUNT ADMISSION AS RAIN DELAYS PLAY
Alex Carey's series with the bat changed after his controversial run-out at Lord's, with questions posed as to whether that has impacted his series since.
The Aussie keeper admitted before play that it was something he had to deal with.
"Probably had to process it all post-that game, listen I am not welcomed out to bat by the crowd," he said.
"The newspaper, all that sort of stuff. I think once you get older you learn what is important. "They are people's opinions and I can't control them. What I did have was amazing support from the playing group and support from back home and even over here.
"Everyone in the streets have been nice. When they get together in a crowd they are against us."
Carey could still play a vital role in this game, if the Aussies do lose a few wickets and have to rely on their lower order to get them home like at Edgbaston.
Meanwhile, it looks like play will be delayed with the covers coming on at The Oval.
7:35PM: UZZIE HOLDS COURT AHEAD OF ENORMUS FIFTH DAY
We've seen this over the course of the Test match, particularly on day three (though that didn't work so well) with Australia coming together in a large huddle before play.
Ahead of what could be a defining day in the legacy of these Australian players, it's Usman Khawaja taking control of the huddle and talking to the group.
The enormity of today cannot be overstated, although the urn will come home with Australia regardless, an almost greater prize awaits in leaving no doubt on who the better team this series was.
Australia only need a draw to win the series, but you suspect with how Khawaja and Warner battled yesterday, they will be thinking of completing a historic chase.
WILL BAZBALL DIE AT THE SAME VENUE AS ENGLISH CRICKET DID IN 1882?
It's not like Manchester, but there will be some nervous English cricket fans turning to their weather app to check the forecast across their nation's capital.
There is a heavy cloud cover to start at The Oval according to SEN's Bharat Sundaresan, signalling the possibility that the weather will once again be a factor in who takes home the chocolates in the finale of the Ashes.
You could almost argue that the rain came at a good time for the hosts yesterday, with Usman Khawaja and David Warner cruising to an unbeaten 135-run partnership on day four.
An Australian victory may not only define this generation of Australian cricket, but ask some serious questions of whether England's method does stack up against the best.
The home side will be hoping that they can side Stuart Broad off with a famous victory, as the paceman prepares for his final day of Test cricket.
Broad went out to bat for the final time yesterday, with his last ball faced in Test cricket going for six off Mitchell Starc.
"I've had a love affair with the Ashes my whole life and the thought of being able to bowl my last ball and face my last ball against Australia fills me with joy," he said.
The 37-year-old seamer is the fifth most successful bowler in Test history, with 602 wickets, so far.
If the rain does hold off, we should be set for an unbelievable day of cricket with any result in play.
'SPARE US': DID BROAD HIJACK BAZBALL'S DEFINING MOMENT?
The fate of Bazball – as much as the Ashes – goes on the line on the final day of the series at the Oval tonight.
With Australia needing a further 249 runs, and with all ten wickets intact, have the chance to complete an extraordinary runchase and seal an emphatic 3-1 series victory.
As the Guardian's Barney Ronay writes: "it was always coming down to this".
"One day left to save the English Ashes summer; and to save a few other things too," he noted.
But the decision by Stuart Broad to hijack the final two days of the Test, with his mid-match announcement that it would be his last, was also noted as a curious one.
"Was this the right stuff, really, for the sharp end of the series, the guard of honour energy, the weirdly sensual and sombre Sky TV homages?" Ronay mused.
"Why not just retire the day after the series ends?
"It is hard to imagine a more distracting way of doing this, a day of potentially era-defining Test cricket recast as the launch of a new media brand.
"There will be cries that one of England's great Test bowlers needs a chance to wave goodbye.
"But why? This is not the Love Island finale. It's a brilliantly engaging Test series with a knife-edge finish to come.
"Spare us the Viking funeral, just for now."
Originally published as Ashes cricket 2023: All the latest from day five at The Oval