World
'Didn't like it': Ex-Dog Andrew Davey takes aim at Cameron Ciraldo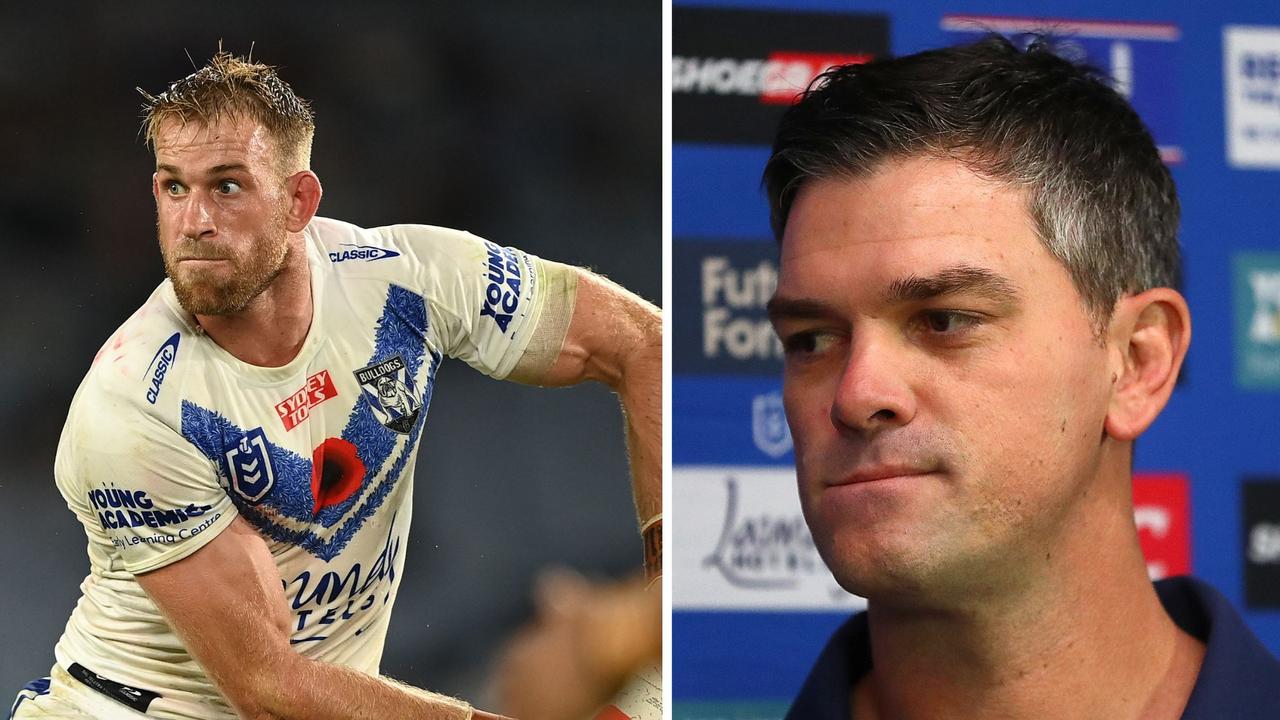 Andrew Davey has never taken the easy way.
The 44-game NRL veteran made his debut for Parramatta at the age of 28 in 2020 before moving to Manly, where he had two games before a horror knee injury in 2021.
But after rehabbing and coming back for a second season at Manly — where he was inadvertently dragged into the club's Pride jersey saga — Davey linked with the Bulldogs, a move that lasted just two games before he returned to the Eels after round eight.
Watch every game of The 2023 NRL Telstra Finals Series before the Grand Final Live & Ad-Break Free During Play on Kayo Sports. Join now and start streaming instantly >
The Eels welcomed him back amid dearth of edge forwards after he was released from the final two years of his deal with the Bulldogs.
But as the Bulldogs training punishment scandal erupted, the forward spoke to the The Daily Telegraph, revealing he wasn't a fan of Ciraldo's coaching.
"The way the Bulldogs went about things, I didn't like it," Davey said.
"It wasn't a culture that I fitted in with and it wasn't the style of coaching that I resonated with."
Surprisingly, he told the masthead that although he went through the Pride scandal, the situation at Canterbury was worse with players such as Tevita Pangai Jr, who has walked away from rugby league for boxing, Fa'amanu Brown, who went to the Knights a month ago, Braidon Burns, who is set to leave for the Super League, and Franklin Pele all had certain issues.
"Players had concerns (at Canterbury), but they weren't at panic stations," he said. "I had a couple of gripes, but I won't go into specifics. We weren't all pulling the same way.
"It just wasn't my cup of tea, and a lot different to what I've experienced at Manly and ­Parramatta."
And while he wasn't there to witness the training punishment incident which has sparked the furore, Davey said he really didn't gel with Cameron Ciraldo as a coach.
"It wasn't great with ­Cameron," Davey said.
"In the end we didn't talk when I was leaving. It was very cold. I didn't get the ideology of the coaches. It wasn't a process that I'd been ­accustomed to.
"I guess in every business there are ­people that don't always get along.
"You've just got to go somewhere else where you're happy. And that's what I chose."
It's a damning reaction from a player in Ciraldo's first year at the club.
The coach has been in the spotlight after a player was subjected to a brutal wrestling punishment after he was reportedly 10 minutes late for training.
Reports say he was forced to wrestle 20 players in around four minutes, with suggestions the player is considering legal action.
Ciraldo defended his training techniques as the club goes through a rebuild, having not made the finals since 2017.
"I don't want to comment specifically but at different times we've wanted to put some standards in place and obviously if you're late we have to do something," he said.
"We are trying to drive standards. We want to have winning performance standards and a lot of that is around individual responsibilities and we have to hold those standards."
Ciraldo has also had other players including Reed Mahoney and Viliame Kikau come out in support, while Penrith fullback Dylan Edwards had nothing bur praise for the former long-term Panthers assistant.
"Everyone's on-board," Bulldogs captain Mahoney said on Friday.
"Training's always hard. If it was easy, everyone would be doing it. It's hard to get here (to the NRL) but it's also harder to stay.
"You come to training sometimes and you might feel sore and that, but sometimes you've just got to get through it. That's part of life being a professional athlete.
"I definitely think he's [Ciraldo] a mate before he's a coach, and that's what everyone loves about him. He's easily approachable, his door is always open, and a lot of boys go and talk to him just about life advice, and then footy comes second, and that's how he is.
"But he has standards, and we have standards as a playing group and as a club with where we want to go. I think Cam is stressed out a lot that this is the way we're going, and if you don't really like it, then it's probably not the place for you.
"As players, we're all on-board and we're willing to do whatever it takes this week especially but going forward as well."