World
Luka's revenge as Boomers' World Cup dream over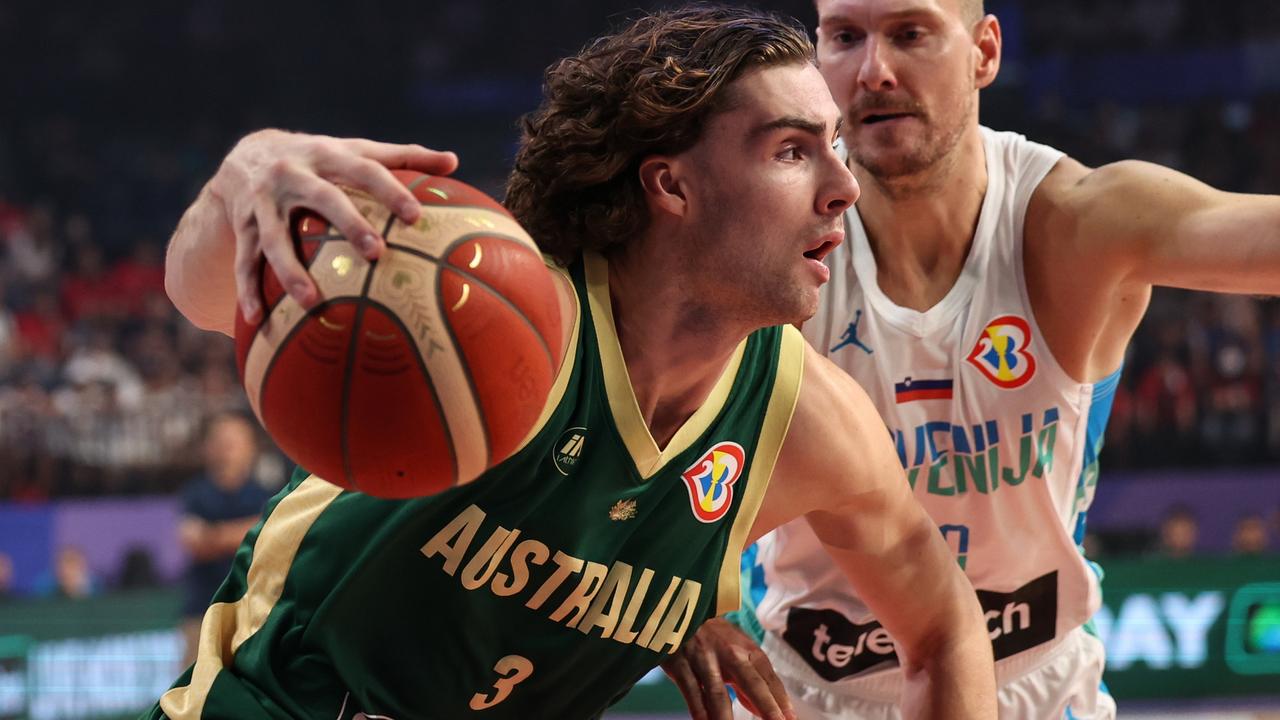 It was always a figurative 'must-win' but Australia now faces a win-or-you're-out clash with Slovenia.
Germany's 27-point win over Georgia earlier tonight means the Boomers must defeat superstar Luka Doncic and the Slovenians in a rematch of the Tokyo Olympic bronze medal match — Australian men's basketball's crowning glory.
Can they keep the World Cup dream alive?
FT: AUS 80-91 SLO
Luka hit a three from the carpark, just to rub a bit of salt into the wounds as Slovenia avenged their Tokyo Olympic bronze medal defeat at the hands of the Boomers.
It was two years in the making, but the Slovenians have kept their perfect record at the World Cup alive.
Josh Giddey was brilliant for Australia, with 25 points, including 13 in the third, to go with eight rebounds and four assists. Patty Mills had 17 and Dante Exum 13.
Doncic had 20-7-6, despite sitting for long stretches with foul trouble, while Mike Tobey had 18 points, 12 rebounds and five assists in a brilliant performance for the big man.
The Boomers now face a dead ruber against Georgia on Sunday.
Q4, 3.38: AUS 66-81 SLO
Well, that got out of hand quick. Slovenian sharpshooter Klemen Prepelic banged in a deep three, Goorj called timeout and the boomers World Cup dream is just about cooked. It's 15-4 in the quarter. Ugly stuff, outside of Giddey, who has 24.
Q4, 7.00: AUS 64-73 SLO
Giddey cut the lead to two on another big drive, but Slovenia went on one of those mini-runs that has hurt the Boomers throughout the tournament — 7-0 run and the lead's now 9 again, with no Doncic on the floor for the first three minutes.
"Head up, head up, lot of time, gotta guard, we push off stops," coach Brian Goorjian urged in the timeout.
Work to do.
3QT: AUS 62-66 SLO
It all comes down to this. Australia must win from here or the World Cup dream is over.
Josh Giddey is keeping it alive, he poured in 13 points on his own in the third, helping the Boomers peg it back to a four-point deficit at the last break.
Giddey leads all scorers with 20 to go with seven rebounds and four assists, while Patty Mills has 17.
Q3, 4.15: AUS 51-60 SLO — BOOMERS TECH AFTER REF SHOCKER
Australia's bench was warned by the referees for being earlier in the third and was just slapped with a tech.
Joe Ingles smacked it out of Mike Tobey's hands and it bounced off his knee.
Everyone in the stadium, everyone on the floor and everyone watching on TV at home knew it came off the Slovenian… except the referees.
Goorj lost his mind and was slapped with a tech.
Poetic justice the free throw was missed and the Slovenians came up empty.
Mills, Giddey and Exum keeping the Boomers alive, just, with 17, 11 and 8, respectively.
Q3 8.18: AUS 40-54 SLO
Luka Doncic now has four fouls — but he's staying on the floor for now.
Slovenia walking a tightrope, given one more foul and he's disqualified.
Huge moment in the game for the Aussies, they'll basically be playing five on four offensively, Doncic cannot afford to defend hard.
Boomers MUST attack him.
Slovenia gone to a zone to try to protect Luka — be nice if we could hit a three. Take Patty's 3-4 from deep and we're 2-11.
HT: AUS 30-39 SLO
Luka sat with three fouls for over five-and-a-half minutes but the Boomers couldn't capitalise and, when he returned with two to go in the half, Slovenia extended the lead to a game-high 14.
Thank the basketball gods for FIBA Patty again. A pair of threes in the last minute of the half kepts the Aussies in with a chance, but it feels like a mountain.
Patty's got 14 to lead all scorers, while Mike Tobey has been the most dangerous scorer for Slovenia with 13.
Q2, 7.43: AUS 23-34 SLO
Luka Doncic was just slapped with a technical foul for shooting the ball from half court after the referees blew the whistle. He's gone to the bench with three fouls — this is huge for Australia.
The Dallas Mavericks star has six points and four assists in 12 mins. The Slovenians rarely play without him, so it will be interesting to see how they adjust.
Josh Green, Doncic's Dallas teammate, leads the Boomers with 8 points — his athleticism has been a problem for Slovenia, giving him seven free throws (he's made six of them).
Josh Giddey has six points, five rebounds and three assists and Patty Mills has five points and three assists.
Slovenian big man Mike Tobey has 11 points and seven rebounds and is monstering inside.
QT: AUS 18-28 SLO
If you're having dramas with the FIBA stats, don't worry, so is everyone else all over the world!
The Aussies are certainly having dramas — the 28 points Slovenia have scored is the most the Boomers have ever concededthey've conceded
Luka Doncic took two dribbles and laid it up from the tipoff and then the Slovenians came back down and hit a three to go up 5-0 and that was basically a microcosm of the opening term.
They're trapping Luka when he gets inside the three-point line with the bigs, but he's been able to fight his way out of it. They're blitzing — throwing multiple players at him when he gets in pick n roll situations — and that's allowed Slovenian big man Mike Tobey to hurt the Boomers inside and their shooters to take advantage from deep.
10.03PM: ARE YOU READY, LUKA?
Five-time NBL champion Trevor Gleeson knows a thing or two about winning big games of basketball.
His advice for the Boomers?
"Every player going past Luka should give him a hit straight away and say 'hey, you're playing against the Aussies now, we're not going to back down from you and we're going to give you one hell of a night'," Gleeson said on ESPN.
"This is going to be an uphill battle for Luka all night."
10PM: NO CHANGE TO BOOMERS' STARTERS V SLOVENIA
Brian Goorjian will roll out the same starting five that helped Australia defeat Japan:
Josh Giddey
Patty Mills
Josh Green
Nick Kay
Duop Reath
Andrew Gaze just said on the ESPN pre-game that Giddey would get first crack at Luka Doncic. Interesting development, given Matisse Thybulle and Green are said to be the Luka-stoppers, but it's going to take an army and will allow Green to help and roam a bit.
9.30PM: WHAT GERMANY'S WIN OVER GEORGIA MEANS FOR BOOMERS
Germany just went a perfect 4-0 at the World Cup with a 100-73 win over Georgia.
The Georgians' giant frontline in Alexander Mamukelashvili (19 points), Goga Bitadze (15) and Tornike Shengalia (12) made a fist of it early — it was 43-41 at halftime.
But, behind the white-hot sharpshooting of Maodo Lo (18 points), among six double-digit scorers, Die Mannschaft had all the answers and cruised away.
Lo, who scored 20 points in the German's 85-82 win over the Boomers that has raised the stakes against Slovenia, knocked down all six of his three-point attempts, while fellow Aussie tormentor Dennis Schroder had 16 points and seven dimes.
The result means the Aussies must beat Slovenia to be a chance of advancing to the quarterfinals.
Assuming they win and then go on to beat Georgia, it won't get any easier from there, with the winner of Group L, currently the unstoppable Canada, looming as the likely opponent in the quarters.
LUKA WARY OF 'GREAT' BOOMERS
—Matt Logue
Banged up Slovenian NBA superstar Luka Doncic is ready to put aside his aching body to avenge the bronze medal loss to the Boomers at the Tokyo Olympics.
Two years have passed since the loss to Australia in the third-placed game, but the pain hasn't subsided for Doncic.
"We really didn't play well in that game against Australia," Doncic said.
"But we are prepared for it, that's why we are here, to play such matches.
"They (Australia) are a very good team, great players.
"They play tough, it will be a very difficult match."
Doncic has been stellar for Slovenia as the World Cup's leading scorer.
He is averaging 30 points in just 31.2 minutes on the floor while also leading his side in rebounds (8) and assists (7).
Beyond the stat sheet, the 24-year-old is capable of taking over games with his natural instinct and blessed basketball skills.
Doncic is pushing through the World Cup with a non-contact quad injury that he dealt with to the end of Dallas' NBA season.
The injury has been described as not fully healed while he also copped a number of body checks during Wednesday's win over Cape Verde.
Doncic looked hampered at stages throughout the game, even seen wincing in pain.
Asked after Thursday's practice what is hurting him, the NBA star replied: "A lot of stuff."
Doncic has pushed through the pain and is a certain starter for tonight's must-win game against the Boomers.
He is expecting a physical and fast contest against Australia – and can't wait to test himself.
Doncic is particularly excited to take on his new Dallas teammate Dante Exum – a player he has monitored closely.
"He's a great player," Doncic said of Exum. "I've been watching him. He was in the EuroLeague recently in the last couple of years. I think he's a great player, a great defensive player, too. In Dallas, he's going to help us a lot."
Doncic is also wary of Boomers guard Josh Giddey.
"Great player, I know him well from the NBA from OKC," Doncic said of Giddey. "He is very versatile. His shot is probably his weakest link but even that is pretty good."
Doncic revealed he won't be making another side bet with his Dallas teammate Josh Green for the loser of tonight's World Cup clash.
Green's side bet with Doncic after the bronze medal game in Tokyo – stipulating the Slovenian had to wear his Boomers singlet to a Mavs NBA game for losing – made global headlines.
The Sydney-born swingman refused to rule out a new bet for the loser of Friday's World Cup clash.
Doncic, though, says it won't be happening.
"No bet," Doncic said. "We can't bet on games."
Asked, what about Australian jerseys? "No, we can't."
Banter aside, Doncic always relishes the chance to compete against Green and a stacked Boomers side.
"Yeah, it'll be fun," Doncic said of facing Green. "He's a great guy, great player, and my teammate [with the Mavs]. It's going to be fun, for sure.
"As I've said, it will be a tough match, they really are a good team."
The Boomers take on Luka Doncic and Slovenia from 10.10pm (AEST) in a must-win clash to advance to the quarter-finals.
BOOMERS 'YOUNG-GUNS' KEY TO SLOWING SLOVENIANS
Slovenian veteran Zoran Dragic has hailed the Boomers' World Cup squad "even better" than the bronze medal-winning side from the Tokyo Olympics as Australia fight to keep their tournament dreams alive.
Dragic's high praise of Australia's youth brigade, led by Josh Giddey, comes ahead of their second round clash with the Boomers on Friday night – a match the Aussies must win to stay in World Cup contention.
The Boomers side that collected the Rose Gold in Tokyo was largely made up of veterans – with Josh Green the youngest player at 20.
Flash forward to this year's Cup and Green has been joined by rising guns Giddey (20), Dyson Daniels (20), Jack White (26) and Xavier Cooks (28).
Daniels hasn't played, but the likes of Giddey, Green and Cooks have all excelled as the high-tempo "blueprint" to Australia's success.
This was on full display in the final pool game against Japan when the trio produced dominant displays.
Cooks may be older, but this is his first World Cup campaign and he has sights set on being involved in the Boomers program for years to come.
Dragic – who played for Slovenia in the third-place loss to Australia in Tokyo – is bracing himself for a stronger, deeper Australian side when the two teams clash on Friday.
The Slovenians are coming off an unconvincing 92-77 win over Cup newcomers Cape Verde – and know they must be better to beat Australia.
"We need a lot of improvement for the Boomers, especially now they are a different roster to what they were at the Olympics," said Dragic.
"In fact, they are even better.
"They have a few young players now and Patty is still playing at a high level.
"They have a good combination of veterans and young players, so it's going to be a good game.
"We know where their main targets are and we'll need to play together to win."
SLOVENIAN SUPERSTAR
The key to beating Slovenia, as it was in Tokyo to claim bronze, is shutting down Dallas Mavericks NBA superstar Luka Doncic.
The four-time All-Star and 2019 Rookie of the Year has been stellar as the World Cup's leading scorer.
Doncic is averaging 30 points in just 31.2 minutes on the floor while he is leading Slovenia in rebounds (8) and assists (7).
Beyond the stat sheet, the 24-year-old is capable of taking over games with his natural instinct and blessed basketball skills.
Dragic is expecting Doncic to lead from the front against Australia.
"He just gives us, you know, what you see," he said.
"I don't know what they (Australia) are going to do, I'm sure they have some plans for him and we just need to play together and it will be even harder for the other teams when the players around him (Luka) get going."
WHO ELSE ARE THREATS?
Doncic is definitely the "head of the snake" for Slovenia, as the side's most dangerous threat and complete player.
The Europeans still possess plenty of strike power, most noticeably Tokyo Olympic key pieces Mike Tobey and Klemen Prepelic.
Tobey is averaging 12.7 points and 5.7 rebounds while Prepelic appears to be the most likely – with the point guard averaging 17 points and shooting 55.6 per cent from the field.
If Australia can contain Slovenia's depth outside of Doncic, it will go a long way to securing victory.
This will take a dogged focus on the defensive end – and the offensive boards – but a player like Cooks (who had 10 offensive rebounds against Japan) can lead the way.
The Boomers face a tough task to completely contain Doncic, but they possess the defensive pieces and mindset to limit him.
Green is expected to start on the Mavs gun, but Australia can throw multiple defensive beasts at Doncic like Cooks, Matisse Thybulle and even Jack White.
Five-time NBL championship-winning coach Trevor Gleeson is expecting Green to start on the Dallas megastar.
"Without question – Josh was fantastic at both ends of the floor (against Japan)," Gleeson said on ESPN.
"But Luka, he might be the best player in the competition right now.
"You're going to have to have different looks. Josh Green, (Matisse) Thybulle will get a bit of a look at him. Even some traps, some blitzes, taking the ball out of his hands in the back court, all those different schemes.
"I think (coach) Brian (Goorjian) and the coaching staff are going to start working on it right now."
Originally published as FIBA World Cup 2023: Follow all the action from Australia's clash with Slovenia and Luka Doncic live