World
Matildas coach grilled by Aussie great in bizarre interview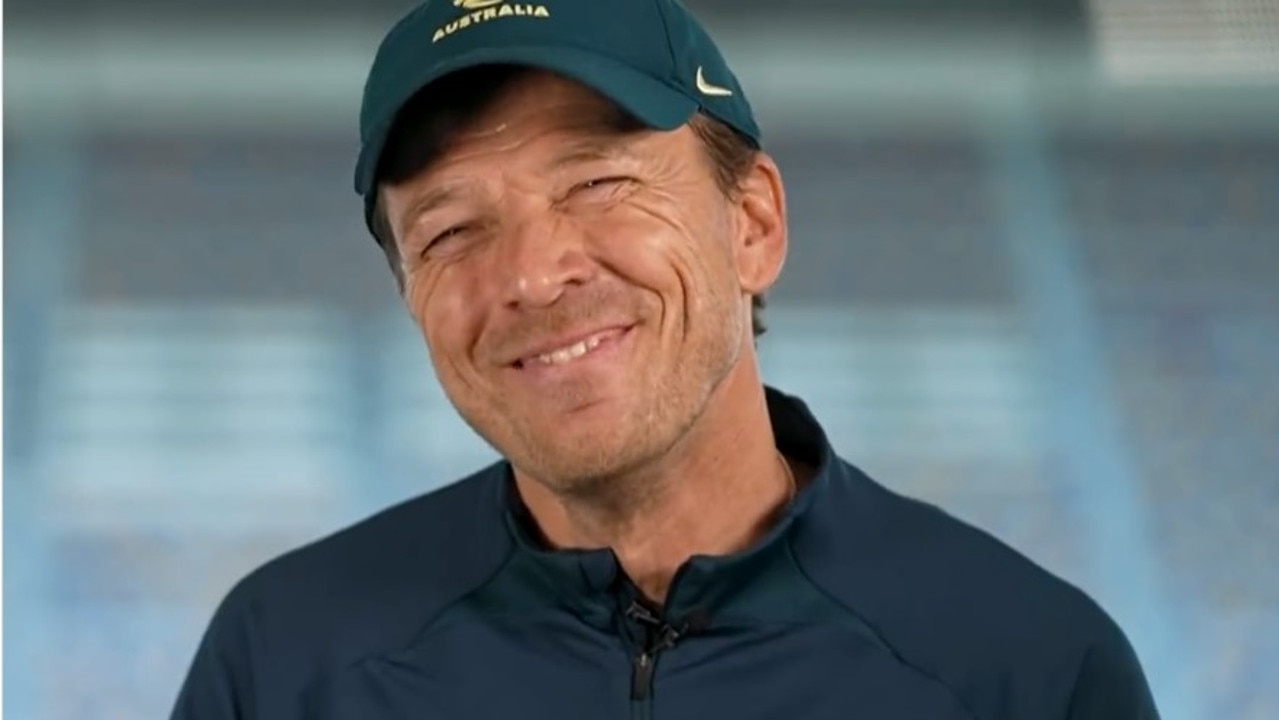 Australia coach Tony Gustavsson has been criticised for a bizarre interview with Socceroos legend Mark Schwarzer in which he refused five direct questions about Sam Kerr's fitness and availability.
Schwarzer, for Optus Sport, grilled the under-pressure Matildas boss ahead of tonight's must-win clash with Canada. And central to the interrogation was Kerr's calf.
Will she play? Did she train? Did she train with boots on?
All these questions were asked by Schwarzer and mystifyingly dead-batted by a smiling Gustavsson in the awkward interview.
"I'm not going to comment on who trains and didn't train," Gustavsson laughed after one direct probe.
Schwarzer quickly interjected: "so she didn't train?"
Gustavsson: "It depends on what you mean, trained with a team."
Schwarzer: "Had her football boots on and trained with the team."
Gustavsson: "She had football boots on. Yes."
Schwarzer: "So she didn't train with the team?"
To the last question, Gustavsson simply laughed.
The curious exchange drew criticism around the football sphere, while The Australian's Will Swanton gave an insight into why Gustavsson may have been so cagey.
"You'd call Gustavsson a poker face but he kept laughing at the questions," Swanton wrote.
"Just a train of thought – he's contracted to coach the Matildas through to the Paris Olympics next year. His deal will be in jeopardy if the Australians fail to progress out of the group stage at their home World Cup. He needs a win. The train is leaving the station.
12.30PM: SCHWARZER: WHY KERR HAD TO PLAY
Socceroos legend Mark Schwarzer said Sam Kerr's return is the key to the Matildas' stunning Canada and keeping their World Cup dream alive.
Kerr, the poster girl of the FIFA Women's World Cup – hasn't played a single minute after sustaining a calf injury a day out from the opening game.
The captain announced her miracle recovery and declared herself fit for the must win game at a press conference in Brisbane on Saturday afternoon.
Schwarzer, an Optus Sports Football expert, said Kerr's absence on the field in the first two matches had been obvious.
"I think anytime missing someone like Sam Kerr, the quality that she has and how important she is to her team would find it difficult to find any replacement," Schwarzer said.
The Matildas played a two-game friendly series with Canada last year – losing 2-1 and 1-0.
Canada are the reigning Olympic champions and after a rocking start against Nigeria, had a top performance against Ireland, bumping them to second place in the group this World Cup.
Australia are coming off a big loss to underdogs Nigeria and need a win against Canada to keep their World Cup hopes alive.
Schwarzer said the Matildas have to "seize the opportunity because it's the last chance".
"I've been in those situations before and it's tough. The pressure really mounts. It's magnified massively by having a World Cup in your own country, I can only imagine the kind of pressure these players are feeling.
"The hope of a whole nation and footballing world, certainly in this country, hangs on the hope and belief that Sam will be fit and that's obviously an extra burden that she is going to have to deal with.
"But we have seen time and time and time again how good she is and how good she does in key moments and I think for Sam, anything to get back into some minutes whatever it is, whatever moment that may be will be a huge positive for the Matildas."
11.30AM: HOW SCHEDULE QUIRK CAN HELP MATILDAS
It looms as one of the biggest games in Matildas history – and potentially the defining match of the Tony Gustavsson era.
And Australia have lucked out, in a sense, in that it'll be played in the intimate surrounds of Melbourne Rectangular Stadium (better known as AAMI Park outside of the World Cup).
The 30,000-seat stadium could be a secret weapon for the Matildas, where it is more likely to have a 'hostile' atmosphere compared to the cavernous big-seater grounds like the Sydney Olympic Stadium.
Noted Australian football journalist Tom Williams believes the atmosphere could be a key factor for the Matildas as they desperately scrap to keep their tournament alive.
10AM: SCARY WORLD CUP SCENES AS TEEN STAR COLLAPSES
Women's World Cup star Linda Caicedo collapsed for a second time in three days after she scored a sensational goal-of-the-tournament contender.
The Colombian sensation – who beat cancer just six months ago – went down on the pitch after she netted the brilliant goal as her side battled for a spot in the Women's World Cup knockout stages.
The goal comes just days after she collapsed during a training session.
Caicedo, 18, was running with the ball on a dribble when she suddenly stopped and began clutching the left side of her chest.
She then tried to sit down but, within seconds had keeled over, seemingly unconscious.
Colombian medical staff rushed over as a sense of panic overwhelmed the camp, with terrified teammates fearing the worst.
Thankfully, Caicedo was able to regain consciousness by the time she was placed on a stretcher, ferried into the ambulance and off to a local hospital.
And she was able to make a full recovery in order to be able to feature against the Germans.
Caicedo showed that she has not lost any of her ability as she scored a fantastic go-ahead goal for Colombia in the 52nd minute.
She collected a loose ball in the German box, skilled her way past a defender and then unleashed a lovely shot into the top corner.
There was a concern for Caicedo as she appeared to collapse again in the 83rd minute.
Footage showed her down on the pitch, being helped by medical staff.
She was eventually helped to her feet and made her way to the sidelines.
But rather than subbing her off, the teen was remarkably allowed to carry on playing.
Marcela Restrepo eventually replaced her in the sixth minute of stoppage time.
This story originally appeared in the Sun UK, and has been republished with permission.
8.45AM: COLOMBIA STUNNER ROCKS GERMANY
Colombia scored a 97th-minute winner to stun Germany 2-1 on a night of Women's World Cup drama Sunday which also saw Norway and Switzerland into the last 16 but co-hosts New Zealand dumped out in tears.
Germany smashed Morocco 6-0 in their opener to underline why they were among the pre-tournament favourites, along with Spain and England, to snatch away the United States' crown.
But they came crashing back down to earth at the hands of a Colombia side inspired by 18-year-old Linda Caicedo and roared on by the majority of a rowdy 40,000 crowd in Sydney.
The Real Madrid attacker scored one of the goals of the tournament so far, darting past two Germany defenders before curling the ball into the top corner to open the scoring.
Germany thought they had salvaged a point in the 89th minute when skipper Alexandra Popp defied the whistles to score from the penalty spot.
But with a pulsating game deep into stoppage time and appeared destined for a draw, Manuela Vanegas popped up to head home from close range and put Colombia on the verge of the last 16.
8AM: WILL KERR PLAY? MATILDAS CAGEY RESPONSE
Besieged coach Tony Gustavsson claims the Matildas may delay a decision on how – and if – to use captain Sam Kerr in Australia's crunch FIFA Women's World Cup clash against Canada on Monday night until just before kick-off.
Having missed Australia's opening two games of the tournament – including last Thursday night's shock 3-2 loss to Nigeria – because of a calf injury, Kerr on Saturday said she was "available" for selection for the virtual do-or-die affair.
Kerr also donned her boots for training sessions on Saturday and Sunday at the Matildas' Queensland Sport and Athletics Centre base.
However after Sunday's session, which went behind-closed-doors following the initial warm-up. Gustavsson was reluctant to reveal the extent of Kerr's training involvement.
A meeting involving Gustavsson, the team's medical staff and Kerr was due to take place on Sunday night but there was no guarantee a decision would be made at the time about the Chelsea star's participation in the game at Melbourne's AAMI Park.
"I want to be clear that we knew she was going to miss the first two games and then be assessed going into this game, and that was going to go down to the wire," Gustavsson said.
"We're going to have a meeting. with the medical team and Sam, and discuss what the possibility is for her to play (against Canada).
"Then we're going to do some tests (on Monday) to see what it looks like.
"(With) calf injuries, one thing is that you're available but there's also risk when you come back from a muscle injury … so we need to balance how many minutes is she available, with what are the risks if we manage to go through to the playoffs (with) playing time … so there's a lot on the table to discuss and we probably won't know how exactly we're going to use that until we come into the stadium (on Monday)."
Originally published as FIFA Women's World Cup 2023 schedule, results: Australia v Canada, Sam Kerr injury fitness update