World
Debate erupts over claim NRL prodigy is 'waste of money'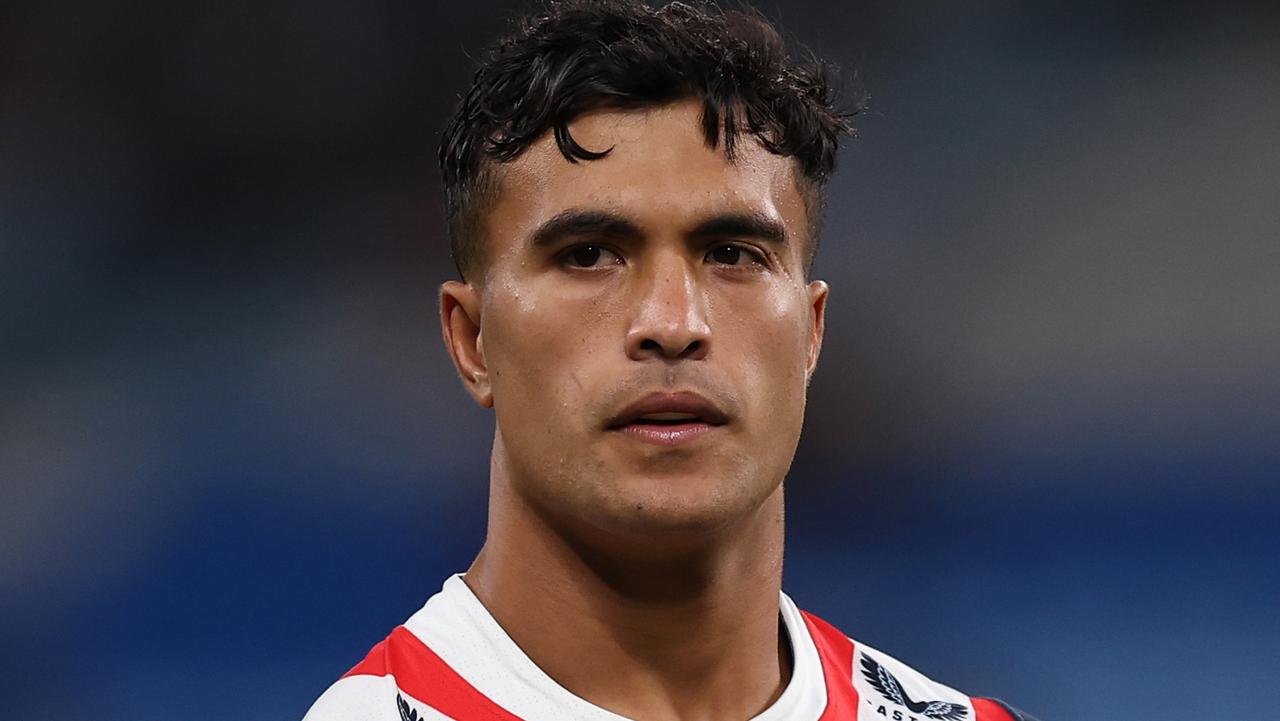 A heated debate has emerged regarding claims Roosters young gun Joseph Suaalii is one of the NRL's most "over-hyped" young players amid a Tricolours form slump.
The 19-year-old is earning a reported $700,000 this season and has another year remaining on his contract before he joins rugby union in 2025.
Suaalii was handed a mammoth three-year deal from Rugby Australia, where he is set to earn over $5 million to represent the Wallabies.
Watch every game of every round of the 2023 NRL Telstra Premiership Season LIVE on Kayo Sports. New to Kayo? Start your free trial now >>>
While he emerged as a genuine force in 2022 and was included in the NSW Blues extended squad, Suaalii hasn't been at his best this season under Trent Robinson.
The Daily Telegraph's Paul Crawley wrote on Monday: "If the Wallabies think Joseph-Aukuso Suaalii is going to solve all their problems they are kidding themselves."
He also explained that he believes Reece Walsh and Ezra Mam are leading the pack when it comes to young stars dominating in the NRL.
His story sparked a heated debate on NRL360 between league legends Braith Anasta and Gorden Tallis as well as reporters Brent Read and Phil Rothfield.
Read below for the full transcript!
Anasta: What do we think of Crawley's piece today?
Read: I don't like it, I think it is a bit harsh on Joey. He is a 19-year-old kid who is playing on the end of a backline who has battled all year.
Read: Everyone keeps talking about the fact he is on $1.6 million, he is not on $1.6 million yet. He's $1.8 million the year he is going to rugby. But that's two years away, he's on $700,000.
Rothfield: He's on $700,000 at the Roosters, he is a handy winger, he gets to the air and he reads defence nicely. That's what has brought the pressure on, that's why he is getting
Rothfield: Have you watched the Wallabies in recent weeks? What Paul Crawley is saying is very correctly pointed out, is that he is not going to fix the Wallabies' issues and it is a waste of money. It is a waste of money.
Read: What has that got to do with the Roosters and how he is going at the Roosters?
Rothfield: Well he is getting overpaid mate.
Read: At the Roosters?
Rothfield: You know as well as I do that the Roosters will offload him at the end of the year, you know that.
Read: I don't know that for sure.
Anasta: So he is on $700,000 and then he gets a $5 million deal, it's not his fault but there is a lot of hype. That's what Crawley is saying.
Rothfield: The highest paid footballer in Australian sport, across AFL, soccer, whatever.
Read: No he's not, not at the moment. In a year's time he might be playing out of his skin.
Anasta: Do you think he is worth it then?
Read: You know what, I don't know right now because he is 19 and he has played about 20 games of first grade and you are going to throw him out now.
Tallis: Do you think he is worth $700,000?
Read: He could have got more than that, he could have got more than that.
Tallis: But like a Liam Martin is on about $700,000.
Rothfield: He's not worth more than that, you can't say that Ready.
Anasta: We aren't talking about performance, we are talking about being over-hyped here. We aren't talking about the money they are on, we aren't talking about value.
Anasta: We aren't talking about being overpaid, he is saying he is over-hyped.
Read: How can he not be over-hyped given the hype that has been around him? It is impossible to live up to that. I like Joey, he is a great kid. He is also an exceptionally talented rugby league player.
Anasta: No one is saying he is not, what annoys me with this we go back and say 'oh he is a great kid'. There's a lot of great kids.
Read: I'm saying it is unfair to suggest this kid, who has only played 20 or so games, won't live up to the hype.
Tallis: Ready, they pay them coming out of school without playing a game. So they can pay someone $700,000 and we say that's fine, but you can't say he is over-hyped now.
Read: No one can live up to the hype, no one can live up to that.
Tallis: 20 games to prove something?
Read: Well it is not that long, half of those games were played when he was 18-years old.
Rothfield: What we have got to say is, the hype is no fault of Joseph's. He is a really polite, reserved young man.
Anasta: Can I just stop you there? What about when he and his agent would only sign one-year deals so that after every year he was off-contract so that he could source the best offer every year which put his head on the front and back page of the paper.
Rothfield: Was that his decision or was that his agent's decision?
Anasta: If you have an agent your agent is connected to you, that's your decision. If you're happy to put yourself out there, I've been there I copped it for 10 years, if you put yourself there you have got to cop it if you're not delivering.
Read: My point is, I think it's too early to say that he is a waste of money or he is paid too much money, because it is far too early in his career.
Rothfield: He's not worth what he is on now though and he is over-hyped.
Read: As I said, how can you not be over-hyped when he has had the hype surrounding him.
Anasta: Enjoy your dinner with Joey tomorrow night.
Originally published as 'It's a waste of money': Debate erupts over 'unfair' Suaalii claim ahead of $5m rugby switch