World
With Mr. Big out of circulation, "And Just Like That" recycles Aidan into the story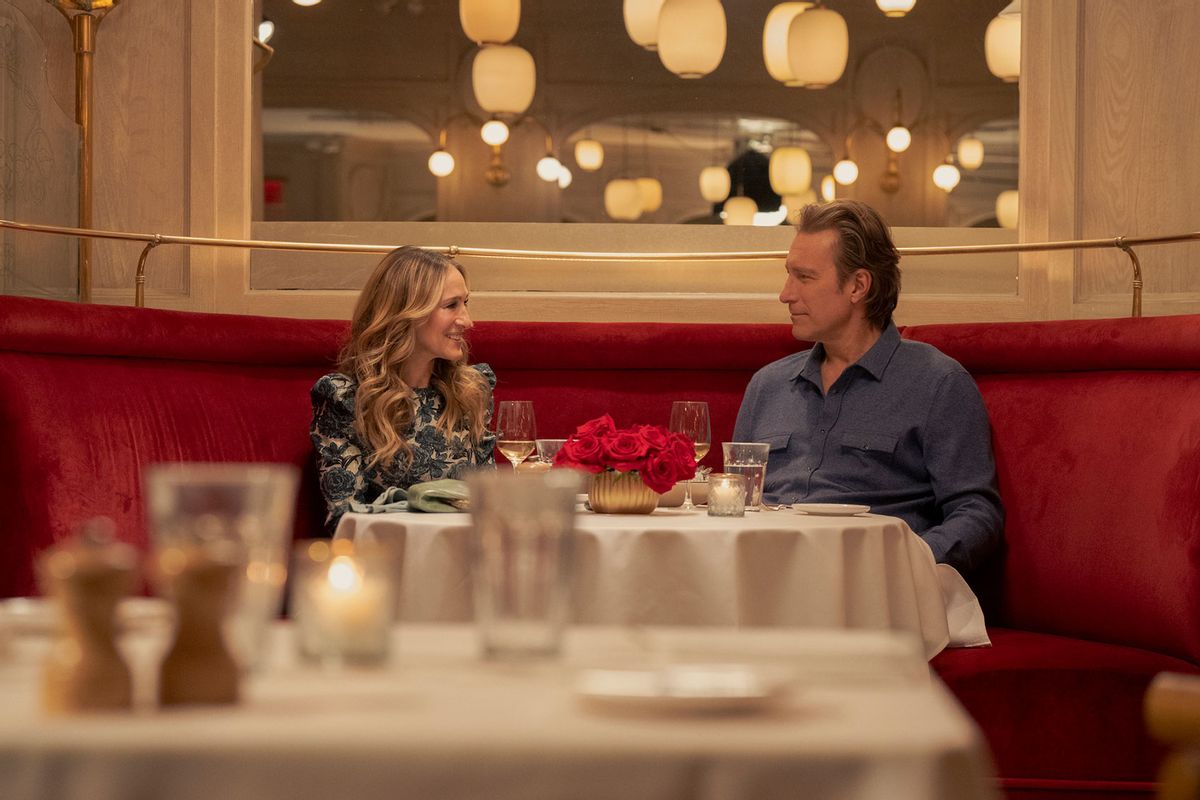 For some of us, the phrase "All of your old friends are back!" sends a pile of invisible millipedes scuttling down our spines. No matter the context, those words can be enough to change your evening plans because, be honest, do you really like all your old friends? The aggressive drunks? The one who, oopsie, can't believe she forgot to tell you about that party she's having tomorrow? How about the aggravating hipster who's always playing devil's advocate?
Nope. When someone has been gone from our lives, and we don't miss them or try to restore contact, there's a reason for that.
For those who still claim they love all their classic acquaintances I have two words: "Friends" reunion. You probably thought you wanted it, only for that special to remind us that wish fulfillment yields mixed results.
Aidan Shaw's return to "And Just Like That . . . " renews that feeling, not due to anything John Corbett did onscreen or off. If anything he slipped back into the alternate position without much fuss at all, although his fashion sense has taken a nosedive; Aidan greets Carrie (Sarah Jessica Parker) in an outfit that screams Death Star Middle Management.  Aside from that, he's the same guy he always was — which is to say, in case we've all forgotten, the wrong man.
"What are the chances this would ever happen?" Aidan says after laying eyes on Carrie for the first time in a decade.
Judging by this show's track record I'd say the chances were always somewhere between excellent and a sure thing.
Bringing him back may please Team Aidan, but it also proves afresh that this show is too timid to conclusively evolve Carrie.
There's nothing wrong with leaning on a few holdovers from "Sex and the City," of course, if they serve a purpose. Charlotte (Kristin Davis) and Harry (Evan Handler) are a fine constant and finding them together happily married after all this time makes sense. Marriage was always Charlotte's endgame, although in "Sex and the City" she had a prince in mind, not Mr. "Ugly Sex Is Hot."
"And Just Like That" makes fine use of the Goldenblatts and fellow marrieds Herbert (Christopher Jackson) and Lisa Todd Wexley (Nicole Ari Parker) by using them to portray the commitment and challenges inherent to long-lived unions in midlife.
They're also a contrast to the stagnancy pulling Miranda (Cynthia Nixon) and Steve (David Eigenberg) into despair, a mismatch that's also overstayed its welcome. They also relatably exemplify how tough it is to sever a reliable partnership that could easily keep going if both parties compromised their needs. Plenty of people do that.
But Miranda and her new friend Nya (Karen Pittman) – who is also in the process of ending her marriage, albeit cleanly – are gingerly relaunching into the world of singledom and its many-varied terrors. Regardless of how we feel about Miranda and Steve, and what disasters they are separately and together, their storyline is gutsy enough to strike a nerve.
Bringing Aidan back proves afresh that this show is too timid to conclusively evolve Carrie. 
"I may be different, but dating isn't," Miranda tells Carrie in a phone call. They're both waiting for their dinner partners, but Miranda is inside a crappy, dirty apartment belonging to a filthy (and not in a good way) romance writer who cleans up well for public appearances. Miranda's peek at the author's private life kills the fantasy, revealing a disorganized loner who sleeps on flannel sheets and doesn't clean her pet's litterbox.
"It's still a s**tshow!" Miranda concludes. "A cat s**tshow!"
For whatever excuse this show doesn't have the bravery to subject Carrie to any of these toils and snares, preferring to recycle the dog-eared pages of her little black book as an easy way to avoid alienating the faithful.
That also hinders the possibilities for her midlife adventure, which is still new and, so far, vicariously playing out through her new bestie Seema (Sarita Choudhury). We love the qualities Seema brings to the brunch table, one of them being that any old Ghosts of Boyfriends Past that might haunt her would be completely new to us.
Aidan, though, is post-consumer recycled content. "Sex and the City" sculpted him to be Mr. Right – he was stable, creative like Carrie, and works with his hands. But he lacked the titillation Mr. Big represented; besides, Carrie wasn't looking for Happily Ever After at that point.
The show ended up busting that storefront window by having Big "save" Carrie in Paris in its finale only to jilt her at the altar before marrying her anyway at the end of the first movie.
"Sex and the City 2" resurfaces Aidan for no good reason, although the same thought applies to the film itself.  "And Just Like That" could have let him remain a sexy 10-year-old memory left in Abu Dhabi, but none of Carrie's relationships with any staying power shall remain in amber; we know that now.  Carrie shoots Aidan an email, and Aidan replies with an update every girl wants to hear: he's divorced, rich and going to be in town. They meet on Valentine's Day. 
True to form, their reconnection isn't entirely smooth. Carrie waits for him at the agreed-upon location – a restaurant that happens to be next to the restaurant he meant. But they're forgiving now, greeting each other with a warm hug. He apologizes for not reaching out when he heard about John's death, then tells her he read her book.
He asks Carrie if there's anyone new in her life, and if this were a different show flashes of Franklyn the Radio Producer (Ivan Hernandez) and George the Workaholic Tech Entrepreneur (Peter Hermann) would have flashed on the screen.
That didn't happen, but let's talk about those guys.
We barely got to know Franklyn outside of the workplace he shared with Carrie and their once-a-week sex fling because — gasp! — he wanted to date her. She wasn't ready for anything serious so soon after Big's Peleton ride to the stock exchange in the clouds, and that's fine!
Aidan is post-consumer recycled content.
George was a classic one-and-done in the old show's mold, in that he was sexy and a bit inaccessible at first, then warmed to Carrie and, ooh look, a chic condo with an open floor plan! Veteran "SATC" viewers recognize these as red flags; sure enough, Carrie walked out on the guy following a second c-blocking from his business partner.
Now, this is in no way advocating that "And Just Like That" adopt some type of consistency when it comes to Carrie's emotions. Grief kicks the bereft all over the place, making Carrie's urge to spend Valentine's Day with a familiar face fathomable.
Counterpoint: did it have to be Aidan's? If the show has to revisit old scenery, how's this — Carrie and Miranda spent the holiday together in the past, and that didn't end well. Carrie also knows both Steve and Miranda's latest love and recent ex Che (Sara Ramirez). There are items on the docket to discuss that could push each of them a little farther down the road. Still, why is that date between two people who remain present in each other's lives less worthy of a do-over than this one?
The answer, presumably, is that this reunion is what "And Just Like That" audience wants, in the same way "Sex and the City" compromised the independence its main heroine insisted upon for six seasons only to settle her down with the difficult man she tamed.
---
Want a daily wrap-up of all the news and commentary Salon has to offer? Subscribe to our morning newsletter, Crash Course.
---
Irby's script deserves credit for briefly acknowledging how miserably Carrie and Aidan ended when he balks on the doorstep of her old place, which was briefly their old place before she wrecked their engagement by running back to Big (which, again, is what HBO believed the audience wanted). Aidan remarks how great it felt to be with her in the restaurant.
"We're back where we started," he says. "But this is where we ended, with the f**king wall I couldn't break through. And those floors? Remember the floors I redid? I mean, that's all bad. It's all in there." Viewers may notice how much this sounds like Steve's observations about home repair and sweat equity in the previous episode. That was not a pretty scene.
This one, however, is rom-com perfection. Carrie can't get Aidan to go back to her place. "I'm never going in there again," he says, and for a moment we mentally applaud his wisdom.
Just as it looks like he's going to walk away, Aidan changes his mind. "It's New York. They have hotels, right?"
And just like that, they're "back on the same page," she says, perhaps regressing this supposed next chapter to a past refrain. But who knows? Hotel sex has a way of shining up tarnished relationships. 
With our luck they'll run into Berger stealing stationery in the lobby.
New episodes of "And Just Like That" debut Thursdays on Max.
Read more
about "And Just Like That"