World
'People wouldn't understand': Cam Smith fires back at critics of Storm's divisive celebration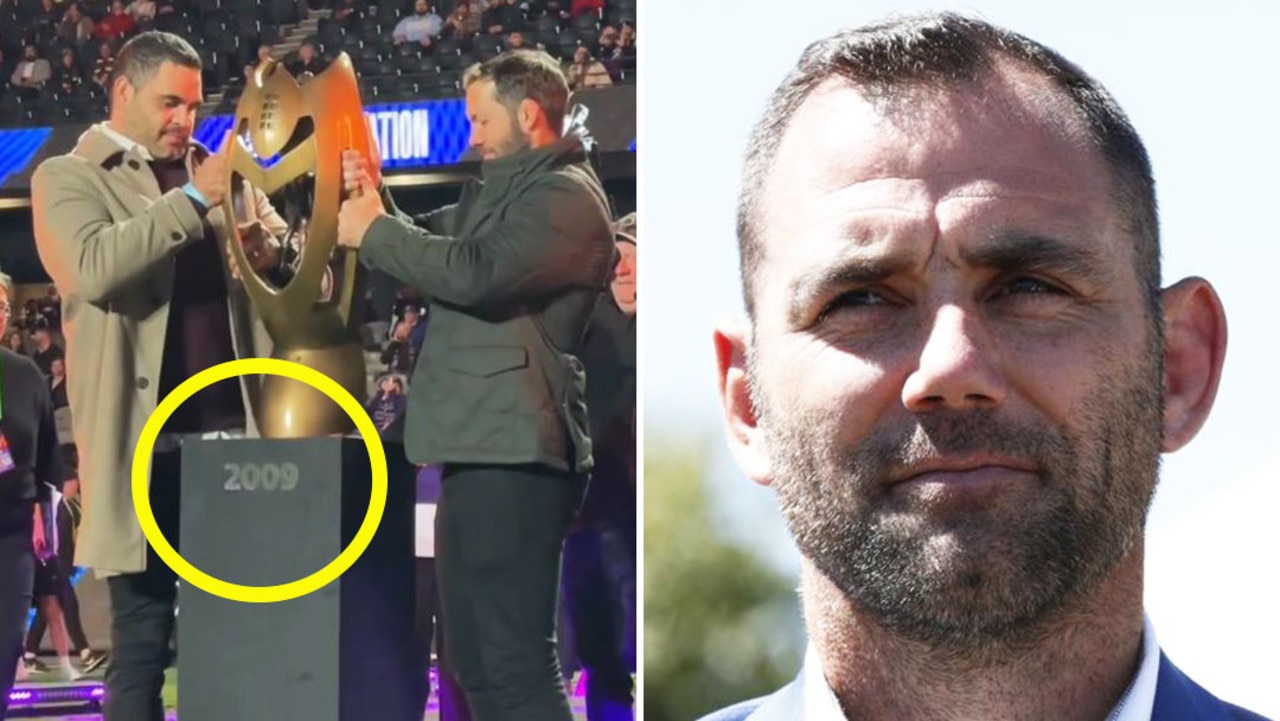 Storm legend Cameron Smith has fired back at those who have criticised his former club, after Melbourne decided to recognise the 2007 and 2009 titles that would later be stripped off them for cheating the salary cap.
The Storm, who entered the NRL in 1998, were celebrating their 25th anniversary prior to Friday night's clash against the Eels.
The celebrations included trophy presentations for 1999, 2007, 2009, 2012, 2017 and 2020, but many NRL fans were outraged that the Storm celebrated the two premiership years that were taken off them, especially before a clash against Parramatta, who Melbourne defeated in the 2009 Grand Final.
Smith, who officially won three premierships with the Storm (2012, 2017, 2020) said he believed the celebration of the 2007 and 2009 seasons was simply to acknowledge former players who were apart of the team during those seasons.
"I think it was purely an in-house thing that they were doing for the fans and the players and particularly the old boys down there," Smith said on SEN.
"Everyone's going to have their opinion, and I don't try to tell people they're wrong if they have a different opinion to myself or any other Storm person that wants to still celebrate those grand final wins.
"I don't ask them to understand the way we feel about it either. I completely understand people would say 'That's wrong, they shouldn't do that' and that's fine but at the same time, many people wouldn't understand the way we feel about it either.
"There were guys there that played in those grand finals and then were forced to leave the club in 2010. After that, they never had an opportunity to play in another grand final or an opportunity to win one."
Smith admits he can understand why there was some "annoyed" people but stresses it was a celebration that was put on for the right reasons.
"There was punishment handed down at the time and the club and the players and all the administration and fans had to live through that. At no stage was it an opportunistic time to show it off or parade it around," Smith continued.
"The thing I want to get across is, I can understand why it's annoyed a lot of people and that's fine – as long as those people can acknowledge too that I don't think those people understand the way that the Storm people in that period feel about it at all.
"I'm sure looking at it now, they're probably thinking they weren't expecting this amount of news and reporting on it.
"Particular fans around the country still hold onto it and I completely get that."
Storm chief executive Justin Rodski also defended the club's actions.
"It was important to acknowledge what those players from those two teams were able to achieve in those seasons," Rodski told the Sydney Morning Herald.
"We understand that retrospectively the premierships were taken away from our club.
"But given we were celebrating 25 years as a club, we felt it was appropriate those players and teams were properly acknowledged."
Phil Rothfield was tearing into the Storm – who faced the Sea Eagles in 2007 grand final and the Eels in 2009 – on NRL 360 on Monday night, before the club found an ally in Tallis.
"The NRL stripped them of the 2007 and 2009 titles for cheating, they did not legitimately win those grand finals," Rothfield said.
"Yes they did. I believe they did," Tallis responded.
"They didn't, they were cheating. Other teams were spending less money," Rothfield said.
Tallis then dropped a bombshell and suggested every premiership-winning team rorts the cap in some capacity.
"How many teams have won the grand final in the last five years and been under (the cap)," Tallis said.
"I don't know Gorden, it's easy to say that, where'd your proof?" Rothfield responded.
"Listen, Melbourne Storm won, unless you're a Storm fan I reckon you're shitty, but they won those trophies. In my mind, as a footy fan, they've got a right to put them there," Tallis said.
Rothfield exclaimed "turn it up Gorden" before the Broncos legend quipped back "well Manly didn't win the game, did they".
"Manly should have been retrospectively, and Parramatta, been given the trophy because they were the best legitimate sides that year," Rothfield said.
That suggestion prompted fellow panellists Braith Anasta and Brett Read to strongly disagree with Rothfield before him and Tallis kept going at it.
"Greg Inglis is holding the trophy and he got a speed boat on the side. Gordie you can't defend this, they didn't legitimately win the title," Rothfield said.
"In my opinion, I have no problem with it," Tallis said.
"Well I do. What happened in those days was blatant cheating, it was a long time ago but they should not be parading trophies around that were not theirs, they did not win those trophies," Rothfield said.
"So let's pretend the cameras are all off, can you win the NRL without winning the salary cap?" Tallis said.
That question saw Read interject.
"Yes you can Gordie, I think that argument is rubbish. I don't think Penrith cheats the salary cap and they've won it the last two years. I think that suggestion you need to cheat to win is garbage. I think that's really disrespectful to the teams that have won it in recent years," Read said.
"I think when fans see Penrith run out and look at the talent they've got, and you're supporting the Wests Tigers, you go 'I don't think we can't beat them'. And if the salary cap is fair, all the talent should be fair, shouldn't it," Tallis said.
"What you're saying is the same belief we had as players, you look at other teams that we were playing against at the time and whatever… but I'm not losing sleep over this," Anasta said.
"You can talk about other premieres being cheats, but no other team cheating to the extent of $1.7 million over the cap in those years," Rothfield said.
Originally published as 'People wouldn't understand': Cam Smith fires back at critics of Storm's stripped titles celebration
Read related topics:
Melbourne