World
Jason Kelce bags first-ever win over younger brother Travis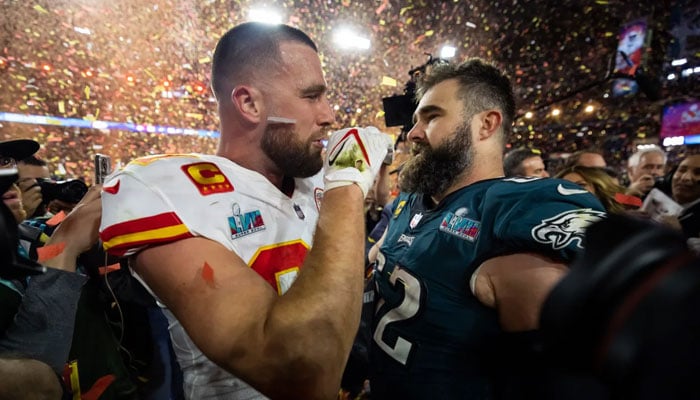 With 27-17, Philadelphia Eagles managed to shut out Kansas City Chiefs from securing their fifth win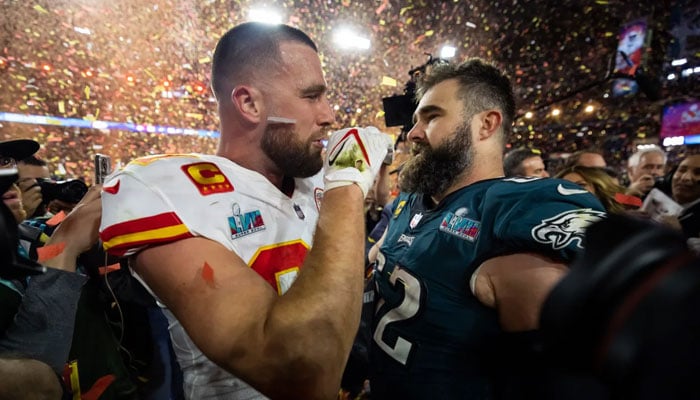 Jason Kelce won his first-ever win over his younger brother, Travis Kelce, in the Philadelphia Eagles-Kansas City Chiefs rematch, ending 27-17, as the Eagles took the lead in the second half, preventing Travis' team from securing their fifth win.
Even though Travis scored a touchdown in the first half, his brother's team ultimately outperformed the Chiefs, scoring 14 additional points in the second half and completely shutting down the Chiefs' offence.
Right after the game, Jason and Travis ran into each other on the pitch. They hugged and laughed before moving towards different directions to greet people on the field.
The entire Kelce family, including the iconic NFL siblings' mother Donna, was spotted in the suite but Travis' lucky charm and American pop star, Taylor Swift, was notably absent due to her gig in Brazil.
Donna, prior to the game, revealed to People that she would wear her Hall of Fame-worthy split jacket, which features half of Jason's Eagles colours and half of Travis' Chiefs red.
She said that the Pro Football Hall of Fame, which currently houses her wardrobe from Super Bowl LVII, "sent me my jacket back so I could wear it this one last time when they're playing each other."
Other than the Kelces, Chiefs' quarterback Patrick Mahomes's wife Brittany was also spotted during the matchup's pregame, to support her husband.
The Eagles and Chiefs have only played five times in NFL history with both siblings on the roster.
The first match was in 2013 but Travis was sidelined due to an injury. Other matchups were in 2017, 2021, and the 2023 Super Bowl, also known as the Kelce Bowl.
When Jason asked Travis on a recent episode of their New Heights podcast if he enjoys playing against him, Travis said it's "fun as hell, man."
"I enjoy just being in the NFL with you let alone when we actually get to share the field," he continued. "It brings all of our family, all of our friends together to watch one game. Outside of the score at the end, I know that I definitely have fun throughout every single game that we've ever played."