World
Broad scales giddy heights to take the fight to his favourite foes | Sports | thenews.com.pk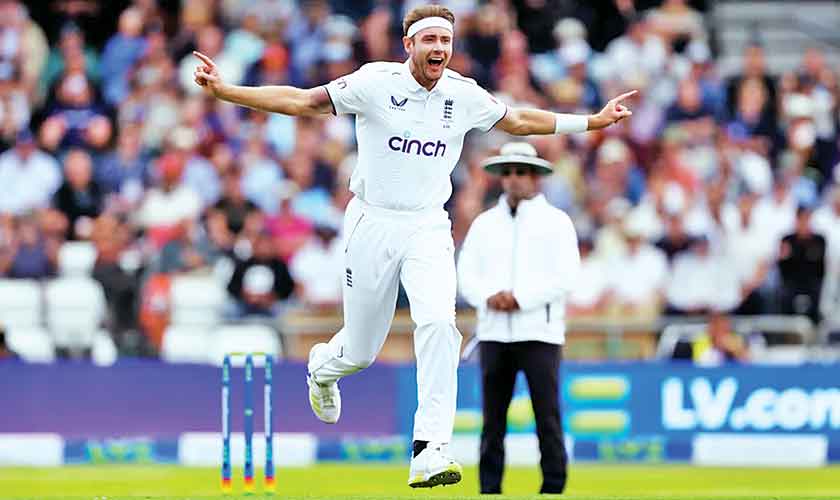 This was not one of those spells. The tail was barely halfway up, and the knees were not exactly pumping. Stuart Broad ran in from the James Anderson End, straining his body for the 33,560th time in Test cricket to send down an 82mph bumper towards Travis Head's left shoulder.
It was a ball telegraphed by the field, and near-identical to one two overs previously that Head had nailed for four. But this time, Head top-edged his pull shot out towards long leg. Joe Root ran in and pouched it, tumbling forward onto his knees, and Broad was off on a giddy celebration.
He wore a childlike grin, having realised a childhood dream. With a single arm aloft, Broad raised his index finger, just in case anyone had any doubt about what had just happened: Head was out, and Broad had 600 Test wickets. He clenched both fists as he ran down towards Root, giving every team-mate in his path a high-five or high-ten; when nobody was near him, he resorted to clapping.
This was not the landmark wicket that Broad must have dreamed about: the David Warner nick-off; Steven Smith pinned in front of middle stump. But the reality of Test cricket is that it rarely pans out as planned, even for the greats. Some wickets are the culmination of meticulous analysis, long set-ups and perfect execution, but most – like this one – come about from a batter's minor misjudgement.
"There was a clip that came up in the changing room of my 100th, 200th [wickets]," Broad said after the close of play, acknowledging as much. "It was caught long-off, caught mid-on, caught midwicket… they're not the old, classical dismissals. The good thing is it was caught by our leading catcher ever in Joe Root – so I can tell my grandkids it was caught first slip."
Broad's 500th came at Emirates Old Trafford too, but in a mid-pandemic series against West Indies. "In front of no crowd, but my dad [Chris Broad] was here as match referee," he recalled. This time, his mum and stepdad were in the crowd: "It felt very special to get an ovation today… It's got a nice ring to it, getting my 600th wicket from the James Anderson End."
And perhaps it was fitting that it came with a short ball. Broad has embraced the chaos of the Ben Stokes-Brendon McCullum regime, adjusting the method that brought him so much success for over a decade to meet their demands: "I've definitely bowled more bouncers in the past 14 months than I have in the previous 14 years," he said with a smile.
It was a big wicket, too. Head cashing in after tea against tired England attacks has emerged as a theme of the last two Ashes series, but they decided at the interval to revert to the short-ball theory that had unsettled him early in his innings. Head was one of four Australian batters to reach 40, and none of the four passed 51.
"Ultimately, it felt like a pretty important wicket in the day," Broad said. "We were delighted to get Head out. He hit some amazing cover drives. Tea came at a good time for us: we had a little chat about how we should bowl with the slightly softer ball… we changed tactics slightly, and for that to work straightaway was great."
Broad lives for these moments. "I have definitely got an addiction to Test cricket," he said. "Ultimately, Baz and Stokesy have given me a new lease of life. It is such a free changing-room: it feels, in the nicest possible way, that you are playing club cricket, but at the highest level. That is such a great place to be, as a 37-year-old."
It has come as a surprise to everyone that Broad has played five consecutive Tests this summer (a run triggered by a timely five-wicket haul against Ireland) – not least Broad himself. "To have played two or three Ashes Tests I'd have been pretty happy. So to be playing my fourth, and bowling pretty well, I'm delighted." He is the leading wicket-taker in this series, with 18 at 25.94.
Unlike Anderson, whose average against Australia sits in the mid-30s, Broad thrives against Australia. He believes it owes to his family history – his father, Chris, was England's leading run-scorer in their away win in 1986-87 – and his admiration of Australian players after growing up "obsessed" with Ashes cricket. He cited Shane Warne and Glenn McGrath as two of those idols; now, they are the only two bowlers with more Ashes wickets than him.
In truth, this was not Broad's best day of the summer. Unusually, he bowled the first ball of the Test; it was short, wide, and cut for four through cover by Warner. He was England's most expensive bowler, taking 2 for 68 in his 14 overs after trapping Usman Khawaja lbw for his first wicket, and was picked off with ease when he strayed too full.
But that is not what Broad will remember this day for. He will reminisce about it in years to come as a broadcaster, as a parent, as an after-dinner speaker, and as a friend. He grinned through every answer he gave to the media at the close of play then ambled down towards the team bus, chatting to Anderson and sipping on a bottle of Birra Moretti.
Because Stuart Broad has 600 Test wickets, a feat that only four other men have ever achieved and very few more ever will. It is vindication for the physical pain and mental exhaustion that he has put himself through in 166 games across five continents, under six captains, spread over 16 years. The thing that will bring him back tomorrow is the prospect of more to come. –Cricinfo